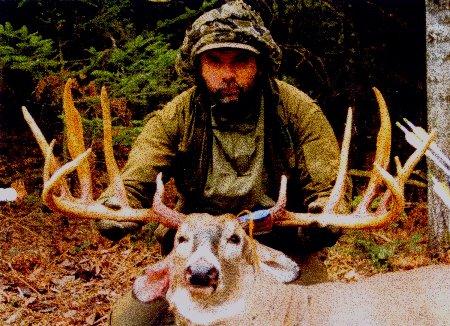 The Rompola Buck. If you've been around the deer world as long as I've been, a few names need no introduction. That one is perhaps the most infamous.
Was it real or just an elaborate fake? And, if it were real, how could it just seemingly disappear almost as fast as it appeared?
You are reading: Was the Mitch Rompola Buck Real, Fake or Something Else?
Let's back this up.
This story starts back in November 1998. The world was a lot simpler then. Relatively few people had computers (no, not tablets) with Internet access. Fewer had cell phones. Most of us were still living in a call-you-on-the-rotary-phone or (gasp) send-you-an-actual-letter-in-the-mail kind of world.
The news trickled out rather slowly, but it gained momentum quickly. A guy by the name of Mitch Rompola from Traverse City, Mich., allegedly shot a 12-point buck while bowhunting. The buck was no ordinary whitetail. Its rack allegedly scored 220-6/8 inches typical and would net 216-5/8 inches, making it the largest typical of all time — IF entered and accepted in any of the record-keeping organizations.
I don't remember a lot of things from 20 years ago, but I do remember this one. You see, I was sitting in a Deer & Deer Hunting staff cubicle not too far from where I'm sitting right now as I'm typing these words. Although D&DH did not (and still doesn't) chase too many trophy-buck stories, this one caught my boss's attention. He obtained rights to the story and then enlisted a crew of freelancers on the assignment. Some top names in the industry at that time, I might add.
After we published those articles in the August and September 1999 editions of D&DH, we just assumed the rest would be history. We were wrong. The story, characters and buck itself got beyond weird. In short, the buck was never entered into any of the record books; speculation grew as to its authenticity; and Rompola vanished from the public eye. And unsubstantiated accounts claim the rack was lost in a fire years later.
There have been plenty of articles, blogs and videos posted on this topic over the past 20 years. I have no desire to recite the blow-by-blow details of what happened to Rompola, his deer and its potential place in the history deer hunting record books. What I do find interesting and of note — these nearly 20 years later — are the own words of the men (other than Rompola) who examined that deer shortly after it was allegedly killed at 7:47 a.m. on Nov. 13, 1998, by an odd-duck bowhunter who was perched in a clap-trap treestand in a swamp on the outskirts of Traverse City.
According to the first D&DH article, three official antler scorers put their hands on the Rompola Buck's rack and all three declared it was a 100 percent legit rack. One of those scorers was Gary Berger, a then 59-year-old Michigan resident who was an official scorer for the Boone and Crockett Club, the Pope and Young Club, Commemorative Bucks of Michigan and the Longhunters Society. He had more than a decade's worth of scoring experience at that time. Berger and two other Michigan scorers — Lee Holbrook and Al Brown — spent nearly two-and-a-half hours scoring the Rompola Buck. Afterward, all three men declared the deer not only legit, but also announced its score was higher than that of the current world record (Milo Hanson Buck).
"The rack was very impressive the first time I saw it, and nothing has changed the second time I saw it," Berger told D&DH in 1999. "I saw the skull plate and how the antlers attach to the skull plate. I've seen a lot of skull plates and a lot of horns attached to skull plates. Everything looked real to me, and I know some Michigan DNR people have seen it. A lot of people saw it after he killed it. Many dyed-in-the-wool hunters saw it. I felt it. I inspected it. It's real."
Holbrook had been a P&Y and CBM scorer for more than a decade as well, and he echoed Berger's comments.
Read More : The 3 Biggest Mistakes Bowhunters Make in Early Season
"When we scored the buck, it was partially mounted, with the skin cut up through the skull plate so we could inspect it," he told D&DH at that time. "The rack is real. I touched the skull plate and examined it, and there was no evidence of anything wrong. I've seen repaired racks and sheds attached to heads by taxidermists. I've seen that many times, and know several taxidermists who are very good at it. On this buck, there's no evidence of that whatsoever."
Brown also vouched for the deer's authenticity.
"I know there is no foul play in this," he told D&DH, adding that he saw the deer the day after it was killed. "I would like all these critics to see it and analyze it for themselves. There must have been at least 15 to 20 people who had seen that buck at Mitch's [house] before I even got there. Everything about this deer is on the up and up."
Brown also stated that he knew Rompola and talked with him about the monster buck he had been hunting.
"I had been talking with Mitch about that buck for three years," Brown said. "I just happened to call him on that Saturday morning (Nov. 14) and asked if he had been having any luck on the big one. He told me he had gotten it the day before and that I should come over to see it. I couldn't believe it. The buck had a huge body, and antlers that I only dream about."
One of the most-forgotten sources in the Rompola Buck story was that of another man who saw the buck: Bill Bailey of Honor, Mich. At that time, Bailey was an 18-year veteran conservation officer with the Grand Traverse Band of Ottawa and Chippewa Indians. In the Dec. 6, 1998, issue of the Traverse City Record-Eagle newspaper, Bailey told staff writer Bill O'Brien that he took several family members to see the Rompola Buck.
"I saw the deer, I saw it closely" Bailey told O'Brien. "I handled the deer." He added that there were "no questionable open doors with it."
Bailey also discounted rumors that Rompola somehow attached the rack to the animal.
"Ridiculous," he said. "Something like that would be pretty easy to tell."
Pretty compelling story, isn't it? There was plenty more in those articles and others at the end of 1998 and in early 1999. But then things got weird. The Rompola Buck story was turned on its ear after several folks within the hunting industry realized this deer was never going to be entered into the record books or be proven real (via X-ray technology) by Rompola. In the most bizarre twist, several in the big-deer business threatened Rompola with lawsuits unless he agreed to have the buck inspected. In a non-monetary settlement, Rompola signed legal documents that forbid him from claiming his deer was larger than the Milo Hanson Buck.
Just like that, the story — and the buck — went away. Big-buck aficionados declared this as a victory, stating that Rompola's buck must have been fake, otherwise he would have never signed those documents, especially for no monetary gain.
Read More : 10 Scent Control Tips to Help You See More Deer
However, there's so much to the Rompola story that hasn't been reported. Much of it has to do with matters not related to deer hunting (including a criminal background) that cast suspicion on the story nonetheless. His friends dismissed those connections and stood by his side.
"You have to realize Mitch is awfully reserved," Berger told D&DH at that time. "He does not give a rip what everyone else thinks. He doesn't care."
An article by Richard P. Smith in the early 2000s re-emphasized Brown's comments. Smith provided photographic proof that Rompola's 1998 buck was no fluke — revealing at least four more bucks that Rompola killed in the years that followed — all of them were record-class whitetails with similar racks sporting 25-plus-inch inside spreads. Of the many thousands of bucks entered in the record books from the entire state Michigan in the previous 70 years, only a handful had spreads that wide.
So, now that you've read this far, you would probably think that I'm still a believer in the Rompola Buck. You'd be wrong. Despite all of the compelling first-hand accounts, including those of the conservation officer, I'm ready to call BS on the Rompola Buck … but not for the reasons that you might believe. I'm not saying the Rompola Buck was fake. And I'm not saying all of these guys were liars.
What I am saying is there's enough hearsay, conjecture and innuendo surrounding this case to fill a brick-and-mortar library. None of it favors this buck somehow being a legit free-range whitetail from a poor-soil county. It's important to note that Rompola was well known within Michigan circles before he shot this buck. In fact, he was a high-ranking member of CBM and was also an official scorer for P&Y and B&C. In the antler-scoring world, it was well known that he had a falling out with P&Y and B&C before he shot this buck and that he had other legal problems circling over him.
My educated guess — based off of 23 years of working here at Deer & Deer Hunting — is there was something so sinister about both sides of the 1998 Rompola Buck that it had to go away, and everyone involved with it had to zip their yips and fade into the background.
Some of the folks involved in this story have grown old and died. Others have retired and moved away. Those who remain have been steadfastly silent.
In my view, that's 'nuff said.
• • •
JOIN THE CAMPFIRE AT THE SATURDAY NIGHT DEER CAMP! Deer & Deer Hunting invites you to watch Saturday Night Deer Camp, only on Pursuit Channel.
Saturday Night Deer Camp: It's all about the people, the places and the camaraderie that make hunting a lifestyle. Only on the Pursuit Channel!
Source: https://raysthesteaks.com
Category: Hunting