Give yourself an edge this season with these four new deer attractants for 2023.
1. Code Blue Rope-A-Dope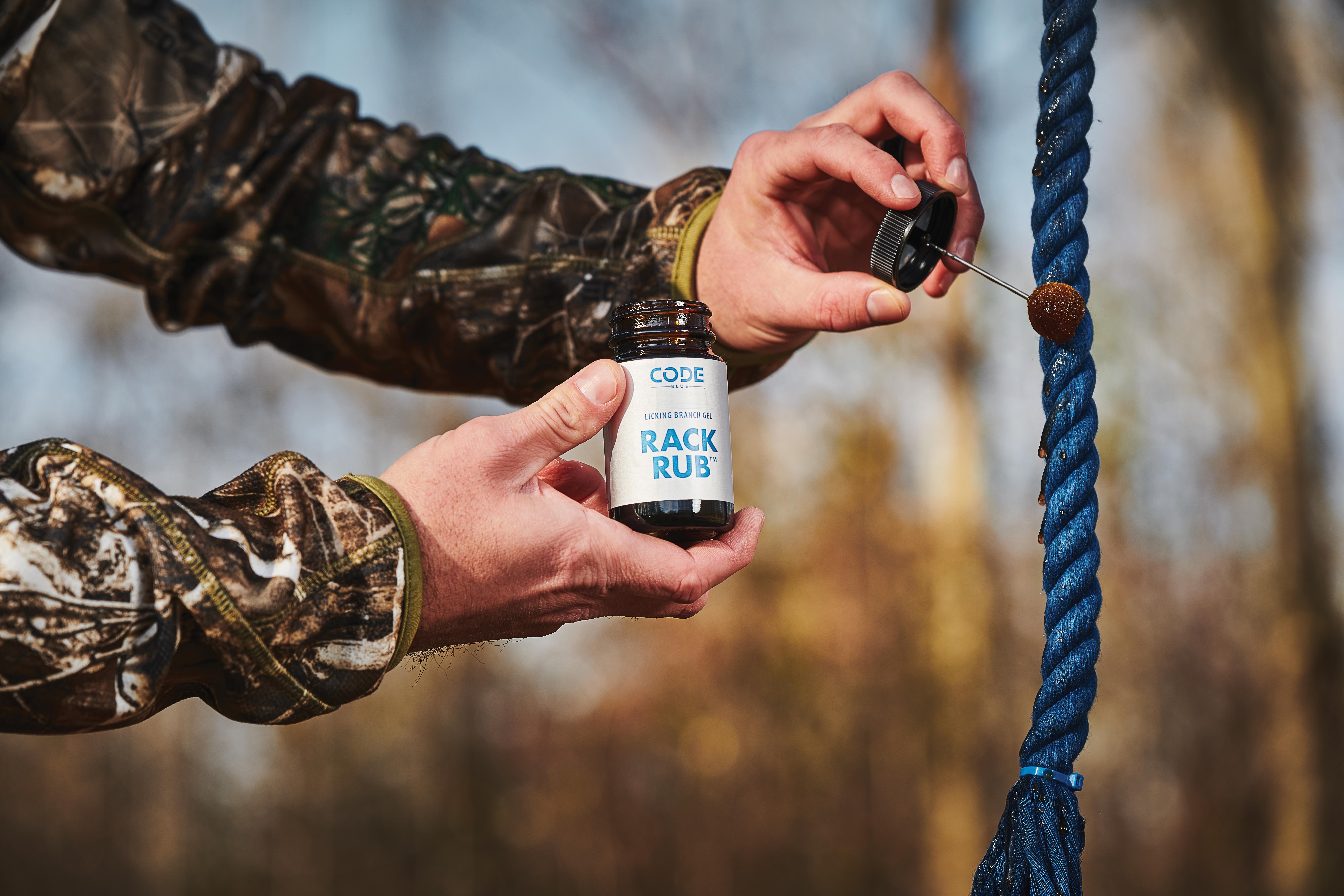 The Rope-A-Dope may have a funny name, but hunters will find it's a deadly serious scent-and-cord combination for luring bucks into bow range. The Rope-A-Dope includes a weather-resistant cotton/synthetic blend rope that is 3 feet by 1 inch and a 2-ounce bottle of Rack Rub forehead and preorbital gland scent that stimulates rub activity on existing or mock licking branches. Just attach the rope to a licking branch, rub some Rack Rub on the rope and voilà – you've created a long-lasting attractant for bucks to visit time and time again. Rope-A-Dope mimics the presence of an intruding buck to draw in other bucks to your hunting area. The thick gel formulation stays on the rope, piquing the interest of antler-clad warriors all season long.
MSRP: $19.99 | codebluescents.com
2. Wildlife Research Center Active-Branch™ Mock Scrape Kit
Wildlife Research Center® introduces the new Active-Branch™ Mock Scrape Kit. Mock scrapes are effective tools, but sometimes it is hard to find the right tree in a good location at your favorite hunting spot. The Active-Branch™ Mock Scrape Kit solves this problem and allows you to create an attractive mock scrape and interaction branch set up with the perfect presentation, exactly where you want it. You can easily set up Active-Branch™ on a tree or wooden post in the perfect location for the perfect shot. If there is not a convenient place to mount it to, you can even set it up on your own post, right where you want it. Perfect for making mock scrapes in fields, by mature trees, or just about any spot at your favorite hunting location. The innovative, patent-pending branch holder allows you to easily mount two branches at the same time. An interaction branch at the perfect height for the perfect presentation, and a second higher branch to mount your Magnum Scrape-Dripper® above.
The Magnum Scrape-Dripper® drips during daytime only to help condition bucks to visit during hunting hours. The Active-Branch™ Mock Scrape Kit provides the tools you need to attract, pattern and condition bucks to visit during daytime hunting hours. Kit includes Branch Holder, Mounting Strap, Magnum Scrape-Dripper® and 4-fl.-oz. Golden Scrape® Scent.
Wildlife Research Center® is known for its innovative products in scents and scent elimination. This is Wildlife's 40th Anniversary; it's their extreme passion and superior quality that has propelled them to be the leader in the category. "Helping hunters fill tags for 40 years! The products are 100% money-back guaranteed – direct by Wildlife Research Center®.
MSRP: $47.99 | wildlife.com
3. Code Blue Screamin' Heat
Read More : The Best Stands to Hunt During the Rut | Deer & Deer Hunting
Screamin' Heat is Code Blue's hottest estrous scent, and it's now available in a 2.6-ounce, easy-to-use wax stick. Developed through extensive scientific research and collected when whitetails are in peak estrous, Screamin' Heat is pure estrous scent enhanced with all-natural female secretions. The unique collection process ensures every stick of Screamin' Heat is pure, premium, fresh and, most importantly, from an individual doe. Its wax stick formula means you can apply the scent to trees, limbs, scent wicks and scent drags, making application simple and effective. A screw-on cap locks in freshness. Use Screamin' Heat mid to late season to entice randy bucks into your hunting area, and always wear scent-free gloves to avoid contaminating Screamin' Heat.
MSRP: $14.99 | codebluescents.com
4. TINK'S Hunt Success Combo
Tink's Hunting Products is pleased to introduce the full-season big buck attractant kit, the Hunt Success Combo. The single convenient purchase providing the RIGHT lure for early season, pre-rut, rut and post-rut deer activity.
Did you know that not all deer pee in a bottle or can is the same? More importantly, not all deer pee is effective all season long. Therefore, Tink's is combining its #1 Doe-P, Trophy Buck, and #69 Doe-in-Rut in one pack so the hunter is ready for all conditions and all season.
"Tink's has drawn in hands down, more big bucks than any deer lure available today, but let's be clear, there are big bucks still alluding a lot of hunters," said Corey Consuegra – President of Arcus Hunting, LLC. "The Hunt Success Combo, when used properly, is the ultimate kit for the entire hunting season, ensuring that big bucks are calm when we need them to be, intrigued during the mating season, and territorial when other bucks are nearby."
#1 Doe-P is best used in the early season, pre-rut and rut. Its sole purpose is to provide shooter bucks in the area the calm and comfort needed to enter a food plot or field. Bucks often gauge safety on the behavior of female deer nearby.
#69 Doe-in-Rut is Tink's signature formula and special recipe. Intended to be used during the pre-rut, rut, and post-rut to attract big deer, simulating a doe in heat. This potent formula has attracted some of the largest whitetails harvested and is the #1 choice of hunters around the world.
Trophy Buck should be used in the early season and pre-rut. Trophy Buck is extracted from bucks and simulates a threat to the territory. Trophy Buck's potent scent will draw big deer out to investigate the threat, protect their territory, and give the hunter a shot opportunity.
All Tink's natural deer urine is collected from Deer Protection Program (DPP) certified farms and undergoes rigorous inspection, including RT-QuIC testing, to ensure all product is CWD prion free.
Read More : Did You Know? 8 Messages Deer Send With Their Tails
Tink's Hunt Success Combo will be available at retailers and dealers around the United States and Canada beginning in the summer of 2023.
MSRP: $19.99 for natural or synthetic | tinks.com
Check out more top gear for 2023:
Top 7 Scent Elimination Products for 2023
Top 10 Trail Cameras for 2023
Top 5 Crossbows for 2023
Top 14 Blinds, Treestands and Targets for 2023
Top 9 Bow Sights, Releases and Rests for 2023
Top 15 Broadheads for 2023
Top 9 Hunting Arrows for 2023
Top 10 Hunting Bows for 2023
Source: https://raysthesteaks.com
Category: Hunting