Do you say a hunter's prayer when you go hunting? Do you believe in praying over a dead deer? What are your thoughts on your relationship as a hunter/predator and how that relates to the animals you bring home for your family's dinner table?
These are all rhetorical questions, of course. I'm simply curious how others approach what can be a deep topic that cuts to a very personal level.
You are reading: Native American Hunting Traditions
Each year I come in contact with many great deer hunters. For the most part, theyxe2x80x99re hard-working, fun loving people who truly respect the land and the animals they hunt. However, over the years, Ixe2x80x99ve noticed what I consider to be a disturbing trend. I canxe2x80x99t really put my finger on it, but it seems to me that many hunters have stepped off the path of righteousness.
In general, I believe many modern hunters donxe2x80x99t truly appreciate the animals they kill. Maybe they're spoiled by todayxe2x80x99s monster bucks and record deer herds. Maybe our comfortable lifestyles have detached our souls from all things wild.
Maybe we just donxe2x80x99t care.
Minimally, all deer hunters should be thankful for a venison bounty. Most of us are. However, how many of us truly respect the deer we kill? How many of us stand in quiet deliberation over a fallen whitetail? How many take a moment to ponder our own existence? This isnxe2x80x99t about religion. Itxe2x80x99s about respect. It's isn't a new idea. Sacred hunting rituals are as old as mankind.
Canadaxe2x80x99s Cree Indians were especially reverent to slain animals. In fact, their entire hunting tradition was built on elaborate rules honoring slain creatures.
Hunters in American tribes followed similar rules, and they made sure the remains of every deer were respected. It was customary for many tribes to prop a buckxe2x80x99s head xe2x80x94 and antlers xe2x80x94 in the crotch of a tree so the buckxe2x80x99s xe2x80x9cspiritxe2x80x9d could watch sunrises and sunsets. They also believed this reassured other animals that they neednxe2x80x99t be afraid of yielding their bodies to humans. Other tribes were careful to utilize the entire animal, including every scrap of meat from the carcass.
I use these examples not to advocate pantheism xe2x80x94 the belief that all things are God xe2x80x94 but to illustrate how far modern man is detached from the earth.
Read More : Venison Prep: Soak It Overnight or Not? Another Good Chili Recipe, Too
A University of Wisconsin college professor once told me that irreverence toward dead creatures is common among people who are anxious about their own mortality. He also said it often takes but one reminder to trigger the necessary guilt to right onexe2x80x99s internal compass. Looking at todayxe2x80x99s world makes me wonder if primitive hunters possessed a far greater understanding of the natural world than their modern counterparts.
Should we celebrate our successes? Absolutely. But where is the line drawn between humble adoration and disrespect?
A Deer Hunter's Prayer
For me personally, I say a prayer every time I harvest an animal. It's very simple, and goes something like this:
Dear Lord, thank you for this wonderful day, and thank you for this wonderful gift. May this deer's body nourish our bodies, and may its memory nourish our souls.
Again, this is not about religion. It's about respect.
xe2x80x94 What are your thoughts? Connect with me on Twitter, Facebook or Instagram, and provide your thoughts!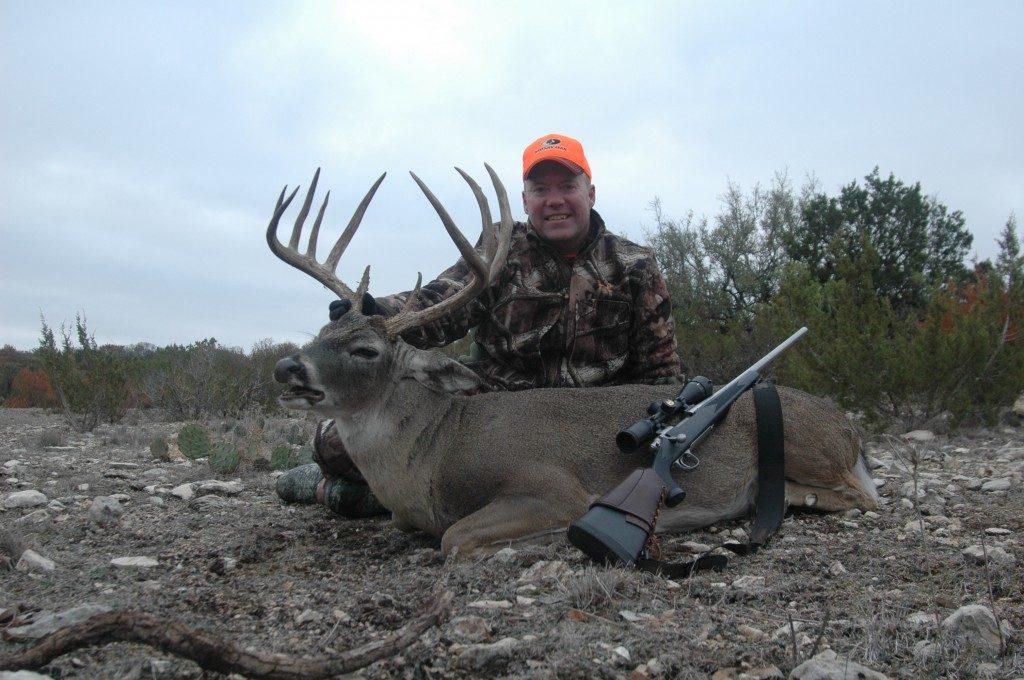 MORE DAN SCHMIDT DEER BLOGS:
DEER URINE BANS DO NOTHING TO SLOW CWD SPREAD
2019 REOLUTION: DUMP SOCIAL MEDIA TROLLS
TOP 5 DEER BLOG POSTS OF LAST YEAR
Read More : Deer Population Dynamics | Understanding Mature Bucks
HOW TO HUNT DEER ON PUBLIC LAND
— — — — — — — — — — — — — —
Principals for the Pursuit Channel and the Edmonton, Alberta, Canada-based WILD Television Network (WILD TV) have announced the formation of a strategic alliance to better serve their audiences.
The new alliance will offer unique crossover efficiencies and increased target penetration for the hunt-fish-shoot manufacturing community serving the United States, Canada and several key European markets. Pursuit Channel and what will become the re-branded xe2x80x9cWILD Pursuitxe2x80x9d network in Canada combine for 25 years of international broadcasting acumen serving tens of millions of households. WILD launched in 2004. Pursuit is entering its 11th season as a leading distributor of exceptional, Nielsen-measured, independently driven outdoor content.
xe2x80x9cThis super-synergized, seamless coalition creates world-class competencies for our continentxe2x80x99s most important, most active conservationists,xe2x80x9d said Rusty Faulk, CEO of the Pursuit Channel.
xe2x80x9cTo combine and package a multi-national bundle of enthusiasts on this scale promises to create a next-level portal for our friends and partners in the manufacturing, conservation and political sectors.xe2x80x9d xe2x80x9cThis new alliance with Pursuit Channel is thrilling,xe2x80x9d said Ryan Kohler, President of the WILD businesses. xe2x80x9cWILD Pursuit is the reboot of a great favorite, giving our subscribers access to never-seen-before, top- end outdoor programming. Conversely, Pursuit opens an American pipeline of entertainment featuring the programs of our Canadian content partners, showcasing some of Canadaxe2x80x99s xe2x80x93 the worldxe2x80x99s xe2x80x93 most impressive big-game species. Incredible landscapes. Charismatic new personalities.xe2x80x9d
The announcement follows a record-setting pace for Pursuit Channel, which adds a treasure-trove of new shows in 2019, including Bassmasters content. xe2x80x9cWe are thrilled to be able to air The Bassmasters on Pursuit Channel, which has an unmatched track record of growth among the audiences our anglers and sponsors most want to reach,xe2x80x9d heralded Bruce Akin, B.A.S.S. CEO. Pursuit Channel is currently active in more than 30 million Nielsen-audited households following a remarkable 15-percent surge in delivery during the past 11 months.
The Pursuit Channel xe2x80x93 WILD TV alliance, creating WILD Pursuit to serve Canada, precedes more big news from Pursuit Channel during next weekxe2x80x99s 2019 SHOT Show in Las Vegas, NV (booth #10735, Level 2), and preceding it. Pursuit Channel, a categorical leader in HD home delivery, is active nationally via DIRECTV HD, AT&T HD, DISH Network, Fios by Verizon HD and Centurylink Prism HD, Cox Communication and the National Cable Television Cooperative (NCTC). Since subscribing to Nielsen for its reporting in January 2018, Pursuit added 4 million households. Additionally, PursuitUp provides free viewing for hundreds of episodes through ROKU, Amazon Fire TV, iPhone and Androids.
WATCH NOW:
Source: https://raysthesteaks.com
Category: Hunting