The 2021 lineup of hunting crossbows features wicked-fast shooters with deadly accuracy. Check out the newest models.
1. Ravin R29X Sniper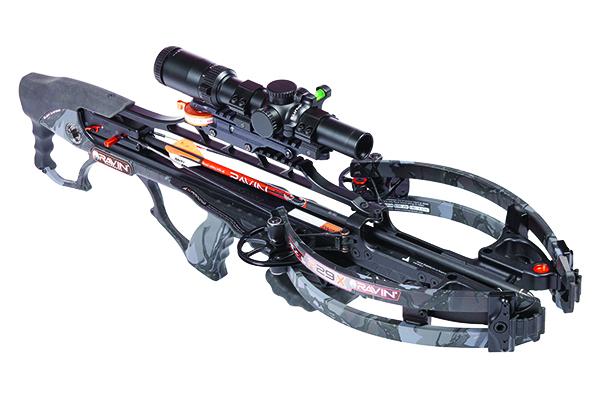 The new Ravin R29X Sniper package includes everything needed for top-of-the-line speed and deadly downrange accuracy. It shoots 3-inch groups at 100 yards with 450 fps, which is super-fast, and ideal for those wanting a quality crossbow. It weighs 6.75 pounds, is 29 inches long, 10.5 inches wide when uncocked, and 6 inches wide when cocked. It has a power stroke of 12.5 inches, and produces 180 foot pounds of kinetic energy. This package comes with the fully-integrated Silent Cocking System, built-in cocking mechanism, anti-dry fire auto safety, built-in sling mounts, removable handle, quiver (with mounting bracket), and crossbow bolts. It even sports a tactical scope, and has a scope level and jack plate adjustable elevation mount (between 20 and 200 yards). You can also get the non-tactical scope combo version for $400 less. The R29X comes fully assembled and pre-tuned. Available in Predator Dusk Camo, exclusive to Ravin Crossbows.
MSRP: $3,024.99 | https://ravincrossbows.com/
2. Barnett Hypertac 420
The HyperTac 420 by Barnett offers a newly-designed and ultra-compact riser assembly that's paired with a tactical-style adjustable butt stock, which makes it very maneuverable in tight places. It's only 9.1875 inches. Once launched, arrows soar at up to 420 fps (with a 380-grain bolt). The bow also shoots the small-diameter, deep-penetrating HyperFlite .204 diameter projectiles. The TriggerTech trigger increases accuracy and precision with a 3-pound, zero-creep trigger. The draw weight for this bow is 215 pounds, power stroke is 15.5 inches, and kinetic energy is 149 ft. pounds. The bow weighs 7.9 pounds, and the package comes complete with a rope cocking device, lightweight side-mounted quiver, and HyperFlite bolts. It only needs a single bolt to assemble.
MSRP: $799.99 | https://www.barnettcrossbows.com/
3. TenPoint XR-410
The XR-410 is the first value-priced, high-performance, reverse-draw crossbow in the TenPoint lineup. It's quiet, too, featuring the Integrated Sound Dampening System. This all-new offering is powered by a reverse-draw design that utilizes the full 17-inches of power stroke to generate blistering speeds up to 410 fps. It spans an ultra-narrow 6.5-inch width when cocked and 12 inches when uncocked. It measures 29.5 inches long (without foot stirrup) and weighs 7.4 pounds. It comes with a RangeMaster Pro Scope mounted on a machined aluminum 7/8-inch fixed dovetail mount, ACUdraw PRO cocking device, three-bolt quiver, and crossbow bolts. Overall, the XR-410 offers unmatched balance and pin-point down-range accuracy. Get yours today.
Read More : What Kills the Most Deer in a Year? | Deer & Deer Hunting
MSRP: $1,649.99 | https://www.tenpointcrossbows.com/
4. TenPoint Vapor RS470 XERO
The TenPoint Vapor RS470 Xero is the first hunting crossbow with a built-in range-finding scope, and features the revolutionary Garmin XERO X1i. It automatically ranges game up to 250 yards away with the press of a single button. Precise illuminated aim points automatically adjust for both distance and brightness. This helps hunters to see their target unobstructed by reticle patterns. This thing doesn't just look good, though. Powered by a reverse-draw design that utilizes its full 17 inches of power stroke, the Vapor RS470 Xero generates up to 470 fps of speed. It's also equipped with the revolutionary ACUslide — a silent cocking and safe de-cocking system. It also incorporates the Integrated String Stop System. Another impressive statistic? It measures an ultra-narrow, 6.5-inch cocked width, 12-inch uncocked width, and 31-inch length (without foot stirrup). The crossbow weighs 8 pounds. It sports a 3.5-pound, two-stage S1 trigger. It also comes with a six-bolt quiver, crossbow bolts, neoprene sling, and soft crossbow case.
MSRP: $4,049.99 | https://www.tenpointcrossbows.com/
5. TenPoint Viper S400
The lightweight Viper S400 is the shortest forward-draw hunting crossbow TenPoint has ever produced. It measures just 32-inches in length, yet delivers speeds up to 400 fps. Like others, it features the ACUslide silent cocking and safe de-cocking system. It even has the two-stage, zero-creep S1 trigger that delivers its most crisp, consistent break ever. Also, it weighs 7.5 pounds, measures 7.2 inches cocked, is 11 inches uncocked, and has an 11-inch power stroke. It even comes with a scope, six-bolt quiver and crossbow bolts. Looking for the ultimate hunting crossbow package? Look no further than the Viper S400.
MSRP: $1,549.99 | https://www.tenpointcrossbows.com/
6. Excalibur TwinStrike
Excalibur is rethinking the horizontal archery game with its new TwinStrike crossbow. This model gives the hunter two bolts that are locked and loaded for twice the confidence. It features the all-new DualFire Technology, which allows two bolts to be nocked at once. This allows the shooter to have an immediate follow-up shot ready to go. And, technically, both can be fired simultaneously. This over-and-under system provides a perfectly-balanced crossbow that is skeletonized for weight reduction (yet carries Excalibur's signature durability), and incorporates a quad limb and dual string setup. It also equips the hunter with two independent, frictionless, 4-pound, match-grade triggers. The front trigger fires the top rail, and the back trigger fires the bottom rail. (A wide finger guard enables easy gloved shooting.) Both bolts shoot through the riser for increased accuracy and consistency. This model also sports Ceasefire Technology, which boosts safety by ensuring the crossbow will not fire unless a bolt is loaded. This safety and dry-fire-reduction technology works in conjunction with Excalibur's new Rhino Nock, providing a positive audible click when loaded correctly. Diving into specifications, the TwinStrike has an overall length of 33.375 inches, cocked width of 21.125 inches, and uncocked width of 25.25 inches. It has a 9.625-inch power stroke, 358-pound draw weight, and weighs 7.75 pounds. It comes with the new OverWatch Scope, scope mount and rings, Rebolt Quiver, Charger EXT cocker and Fail Safe Strap, DualFire de-cocking aid, four bolts with Rhino nocks, and more.
MSRP: $2,222.22 | https://www.excaliburcrossbow.com/
7. TenPoint Vengent S440
TenPoint's new forward-draw Vengent S440 is a lightweight, 7.7-pound bow that delivers lightning speeds up to 440 fps. It features the ACUslide silent cocking and safe de-cocking crossbow technology. This ultra-fast hunting crossbow is one of the narrowest ever, measuring an incredible 5.8 inches when cocked, and 11 inches uncocked. It has a 14-inch power stroke, and an overall length of 35 inches. It also features a 3.5-pound, two-stage S1 trigger that delivers a crisp, consistent break. It also comes with a bubble level, RangeMaster Scope mounted on a machined aluminum 7/8-inch fixed dovetail mount, six-bolt quiver, crossbow bolts, and soft crossbow case.
MSRP: $2,049.99 | https://www.tenpointcrossbows.com/
8. CenterPoint Heat 415
Designed exclusively for dealers and distributors, the CenterPoint Heat 415 is an impressive crossbow. It measures 12 inches axle-to-axle when cocked, 15.75 inches wide uncocked, and 36 inches long. This bow weighs 7.8 pounds, has a draw weight of 200 pounds, and incorporates a 14.5-inch power stroke. The Heat 415 is equipped with the innovative Whisper Silencing System, which includes string stops, limb dampeners and string silencers. It's the ultimate in noise reduction and vibration control. It even features a CNC-machined aluminum cam system, aluminum rail, anti-dry fire and auto safety, an adjustable stock, crank cocker, and 4x32mm scope. Between the narrow width, speed and whisper-quiet shot, the Heat 415 delivers the goods. Once launched, it sends payloads at 415 fps with 153 foot pounds of kinetic energy.
MSRP: $349.99 | https://www.centerpointarchery.com/
9. Wicked Ridge Blackhawk 360
Want a well-priced crossbow that doesn't take a boat ride to America? Meet the Blackhawk 360 by Wicked Ridge. It's bred and born in the United States, just like you — a proud American. With 15-inch cocked and 19-inch uncocked widths, this forward-draw crossbow was built for tight hunting situations. It's 35.5 inches long (without foot stirrup), has a 13.5-inch power stroke, and weighs 6 pounds. It incorporates 11-inch limbs, and heavy-duty machined cams — that elongate the power stroke and increase cam rotation — to produce speeds of up to 360 fps. It comes pre-sighted at 20 yards with a ready-to-hunt package, including a multi-line scope, three-bolt quiver, crossbow bolts and rope cocker. With all of these features and add-ons, the Blackhawk 360 is one of the most affordable crossbows on the market today.
MSRP: $399.99 | https://www.tenpointcrossbows.com/
Source: https://raysthesteaks.com
Category: Hunting