From knives to backpacks and bikes, the accessories you bring into the deer woods can be game-changers. Here's what's new for 2023.
1. Trophyline Venatic Saddle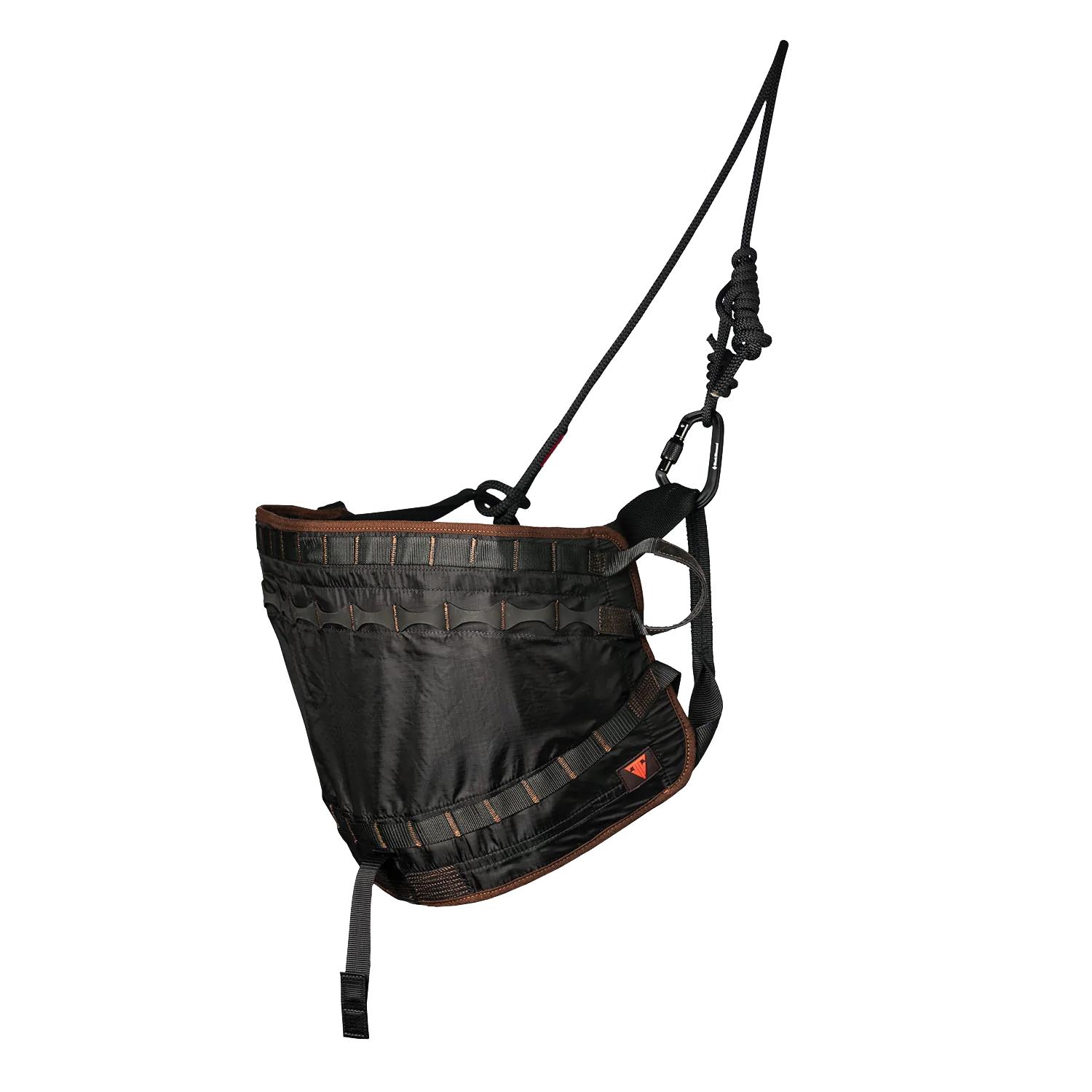 At a scant 20 ounces, the Venatic takes lightweight saddle hunting to another level. It weighs just 30 ounces with the bridge and carabiner, all the while keeping you safely elevated and mobile so you stay focused on what matters: the hunt. Manufactured entirely in the U.S.A., the Venatic is made of rugged ripstop fabric that's breathable and deadly silent. It features a rubberized waistband, Raptor waist and leg strap buckles, a rigid rubber MOLLE band and two bands of additional MOLLE to keep you safe and stealthy. A saddle compression hook, durable foldback lineman loops and an adjustable waist buckle round out the Venatic, resulting in an innovative saddle that's so comfortable you won't even notice it's there. Comes with a Prusik and Black Diamond carabiner. Pick up a Venatic and you'll quickly realize you are sitting in the future of hunting saddles!
MSRP: $299.99 | trophyline.com
2. TrophylineSumpter Pack
Designed for remote-access hunting, the Sumpter Pack uses an aluminum frame to stay light and mobile. Its durable, lightweight nylon fabric resists tears while keeping the weight of the pack down to less than 6 pounds. The Sumpter includes not only a bow scabbard and a saddle pouch, but also a Meat sling with G hooks that deploys up and over the pack, providing plenty of storage for packing your deer out of the wildlands. An adjustable torso (16-19 inches) and a solid one-piece, breathable back panel make the Sumpter uber-comfortable, while 19 pockets keep all your gear organized and ready for use. Those filming their hunt will appreciate the camera arm/tripod sleeves, and everyone will find the Sumpter's 2,600 cubic inches more than enough space for all hunting and survival gear. If you've been waiting for a rigid and robust pack that will handle your saddle gear and meat from your successful hunt, the Sumpter is the pack for you.
MSRP: $229.99 | trophyline.com
3. Outdoor Edge Razor Pro S
Expanding Outdoor Edge's popular RazorPro family of knives, the new RazorPro S contains a bone saw made of 65 MN spring steel for wear resistance and the popular RazorPro 3.5-inch 420J2 stainless steel drop point blade. The RazorPro S has a rubberized TPR handle, replaceable RazorSafe blades and a spring steel saw with chrome coating, providing years of use for bowhunters and other outdoor enthusiasts. Like the RazorPro, the RazorPro S comes with six Drop Point replacement blades and a Kryptek camouflage sheath for storage and easy access. Best of all, it's small enough to easily fit in your pocket or backpack, making it your go-to knife for field-dressing and other chores. The RazorPro S will be available in the spring of 2023, giving you a cutting-edge cutter that will effortlessly handle all your needs in the field.
MSRP: $89.99 | outdooredge.com
4. MTM Case-Gard Traveler Arrow Case
Read More : Did You Know? 8 Messages Deer Send With Their Tails
Bowhunters journeying to a weekend and/or out-of-state hunt will want the Traveler Arrow Case, a compact case that is only 2 inches thick and fits in most hard and soft bow cases. The Traveler holds up to six broadhead-tipped arrows and three practice arrows safely and securely, while additional internal storage between foam sets is perfect for storing small accessories. Constructed of rugged polypropylene, it will hold arrows up to 34 inches in length, while notched padding protects arrow fletching and keeps broadheads razor-sharp. Made in smoke color with clear-view windows, the arrow case provides unobstructed views of points and fletching. The Traveler is made in the U.S.A. and comes with a five-year guarantee. There's also a Traveler Bolt Case for crossbow hunters.
MSRP: $18.41 | mtmcase-gard.com
5. Redline Bowhunting Scabbard
For hunters looking for a heavy-duty bow sling, meet the Redline Scabbard — a tough bow transportation aid that will enable you to traipse through the toughest hunting terrain with ease. It includes a padded shoulder strap for comfort, and a sight cover and padded cam covers to protect your valuable bow accessories. Mossy Oak camo keeps it concealed while traveling, while four-way-stretch material provides a custom fit for all bows. The sling accommodates bows 28-31 inches long and includes dual-clasp attachment points.
MSRP: $59.99 | redlinebowhunting.com
6. Bohning Black Sky 2.0 Bolts
The new BLACK SKY 2.0 and 3.0 crossbow bolts from Bohning Archery are the first fully finished bolts the company has produced, giving horizontal deer hunters accurate downrange precision out to 90 yards. The new bolts have been extensively tested on a variety of today's most popular crossbows, producing amazingly accurate shots. For example, one testing sequence generated consistent sub-3-inch groups with a fixed-blade broadhead out to 92 yards using a crossbow that shoots 450 feet per second. Two models are available for crossbows both with and without rails. The Black Sky 3.0 uses a 3-inch Shield Cut Low Profile vane cut for railed bows, while the Black Sky 2.0 uses a 2-inch Leading Edge Blazer Vane Profile for crossbows without rails. Each package includes three bolts and Bohning's 100-grain Premium Points that are guaranteed to be within 1/4 grain weight.
MRSP: $59.00 | bohning.com
7. QuietKat Ibex
Bowhunters who need to access the wild beyond will appreciate the Ibex, a full-suspension electric bicycle made for hunting, fishing and any other overland adventure you can think of. As sure-footed as the legendary Bigfoot, the Ibex can keenly scale the steepest mountains, while also enabling users to make swift descents over uneven ground. While the Ibex was built to effortlessly climb steep topography, it can also cut cleanly through wet snow and glide through bogs and other low country. The Ibex uses 4.8-inch CST tires and an upgraded FireLink 4-Bar rear suspension to produce ample 130mm of travel to command rugged terra. The Bafang UltraDrive motor delivers an incredible 1,000 watts, while the long-lasting 21Ah battery provides extra range to push farther into the deepest woods where whitetails lie low. And with Tektro hydraulic disc brakes and adjustable front and rear suspension, the Ibex keeps you comfortable and in control on unforgiving terrain.
MSRP: $6,799.00 | quietkat.com
8. Flambeau Scrapper Buck Decoy
Read More : Was the Mitch Rompola Buck Real, Fake or Something Else?
Flambeau's Scrapper Buck decoy is designed to agitate, not intimidate other deer. Its adolescent presentation is based on a carving by award-winning sculptor Chris Schiller. The decoy is designed to coax in any buck that's looking to mark and protect its territory. The decoy's inferior size and rack replicates that of an inferior 2½-year-old. The decoy's legs store conveniently into the body cavity. Included are ground stakes, a faux tail and a blaze-orange carrying bag for safety in the field.
MSRP: $200 | flambeauoutdoors.com
Check out more top gear for 2023:
Top 7 Scent Elimination Products for 2023
Top 10 Trail Cameras for 2023
Top 5 Crossbows for 2023
Top 14 Blinds, Treestands and Targets for 2023
Top 9 Bow Sights, Releases and Rests for 2023
Top 15 Broadheads for 2023
Top 9 Hunting Arrows for 2023
Top 10 Hunting Bows for 2023
Top 4 Deer Attractants for 2023
Source: https://raysthesteaks.com
Category: Hunting