These new arrows offer it all for archers from increased speed, better momentum and accuracy, deeper penetration and decreased wind drift. Check out the top arrows for 2023 below.
1. Easton 4mm Axis Long Range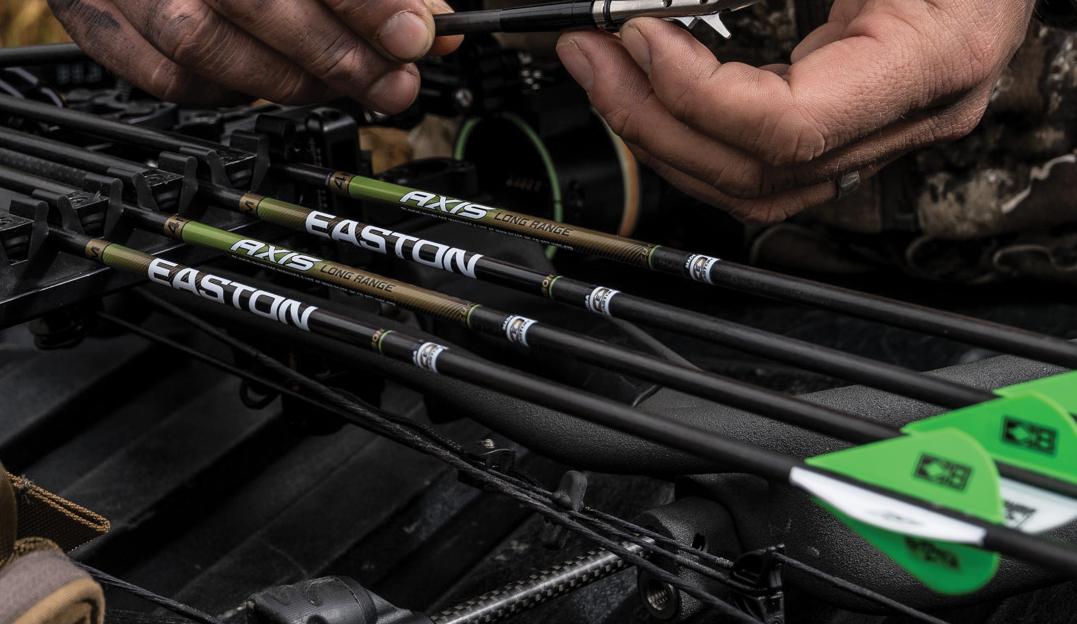 When Easton Archery's 5mm AXIS came on the scene, it revolutionized hunting arrows. The small shaft innovation offered better accuracy and mitigated friction to retain velocity and add penetration. Now the concept has gone forward to the next level with the introduction of the new 4mm AXIS Long Range. The Long Range AXIS offers bowhunters even more of what they want in a micro diameter arrow. The 4mm AXIS uses a lighter weight carbon for more speed to the target in order to drive broadheads deeper upon impact. "Additionally, it adds penetration as the shaft passes through with less friction behind the broadhead channel," said Easton's Gary Cornum. "Millions of successful hunts testify to the awesome effectiveness of a simple concept that equates to more downed big game — it's like getting magnum ammunition made for a bow."
Made in Easton's Utah factory, the AXIS Long Range is engineered with specialized carbon fiber to increase arrow velocity. Easton 4mm nocks and front-of-center boosting 8-32 half-outs are included to help tighten arrow groups. It is available in four sizes, 250, 300, 340, and 400 in both standard straightness and in the ultra-precise ±.001 Match Grade.
eastonarchery.com
2. Victory Archery RIP-SS Hybrid Arrow
Victory Archery introduces the RIP-SS. This bone-crushing, small-diameter shaft features layers of stainless steel fused with an advanced 90-degree 3K carbon weave. Even lighter and faster than its predecessor (the Xtorsion), the RIP-SS boasts a higher FOC and incredible momentum for unmatched penetration and accuracy. The result is an arrow that's less affected by wind. Available in Elite, Gamer, and Sport models, RIP-SS arrows have a straightness tolerance of ± .001, ± .003, and ± .006 inch, respectively. They're available in 250, 300, 350, or 400 spines and come equipped with SHOK SS inserts and IP nocks.
victoryarchery.com
3. Black Eagle Spartan Fletched Arrows
The Black Eagle Spartan Fletched Arrows are reliable and strong. These were developed from taking the best characteristics from larger 19/64-inch and smaller 17/64-inch arrows. Black Eagle wanted the Spartan's outside diameter to be smaller for maximum accuracy and penetration. However, like larger arrows, the company also wanted the 100% carbon Spartan to utilize an insert for easier arrow removal and to reinforce the front of the arrow for increased strength. Get these in .001-inch and .003-inch straightness or straighter (Spartan 200 Spine only in .001 straightness) and ± 1 grain weight tolerance. Shafts are 32 inches long. Fletched arrows also include Black Eagle Arrows R Nock (9 grains), Spartan Stainless Steel Nock Bushings (10 grains), Spartan Stainless Steel Inserts (26 Grains), 2-inch Vanes (18 grains). Sold in a pack of six.
MSRP: $86.99 to $96.99 | blackeaglearrows.com
4. Easton Carbon Legacy 5mm Fred Eichler Edition
Easton's history is rooted in high-quality, handmade longbows and wooden arrows from the era of its inception. Today, it has developed the 5mm Carbon Legacy Fred Eichler Edition — Easton's finest traditional arrow to date. It combines an exotic, dark finish with a traditional and functional bright white dip. It also features high-quality, hand-feather fletching in left wing, 4-inch helical and a tight ± .003-inch straightness for accuracy. This arrow is ideal for traditional shooters using a tab or glove. A HIT insert kit, complete with tools and adhesive, is also supplied. Spine ratings include 340 (9.8 GPI), 400 (8.8 GPI), 500 (8 GPI), 600 (7.1 GPI), and 700 (6.8 GPI). Outside diameters range .272 to .254 inch. Arrows are 34 inches long.
eastonarchery.com
5. Easton SONIC 6.0 Match Grade
Easton's made-in-the-U.S.A. Sonic 6mm shaft is now available in a Match Grade ± .001-inch specification for bowhunters looking for precision and quality. The Sonic 6.0 is built using Easton's seamless Acu-Carbon process for 100% weight and spine consistency from shaft to shaft, dozen to dozen. Lighter overall mass weight also provides for a wider range of arrow build options from lightweight speed setups to high-FOC, momentum-producing heavyweights. The Sonic 6.0 Match Grade also features factory-fletched helical vanes. This custom-quality fletch combined with 2-inch Blazer vanes adds accuracy and tightens groups. This arrow is available in six spines, including 250 (9.5 GPI), 300 (8.8 GPI), 340 (7.8 GPI), 400 (7.2 GPI), 500 (6.7 GPI), and 600 (5.8 GPI). Outside diameter ranges from 0.291 (250 spine) to 0.268 (600 spine). Stock lengths range from 30.5 to 32.5 inches. The 6mm nocks are pre-installed, and Easton's precision ST inserts are included for use with 8-32 thread broadheads and field points.
eastonarchery.com
6. Gold Tip Pierce LRT
The Gold Tip Pierce LRT is built on the foundation of a proven shaft with tighter tolerances and improved components. This longer-range tactical hunting arrow offers a micro diameter for better penetration, decreased wind drift, and extended overall range. A one-piece component system is easy to install in a straight manner. Its DYNA-SLICKSHIELD coating improves both penetration and target removal. The arrow offers +/- .001-inch straightness and a .166-inch diameter. It comes in three-fletch, four-fletch, or bare shafts.
MSRP: $139.99 (six pack) or $229.99 (12 pack) | goldtip.com
7. Carbon Express Adrenaline FPS
The Adrenaline FPS by Carbon Express is a lightweight arrow series that's engineered to maximize speed and flatten trajectory. Its advanced single spine carbon construction creates exceptional consistency, improving accuracy and durability. Straightness tolerances are held to a standard of +/- .006 inch. Each batch is weight-sorted to a tolerance of +/- 2.0 grains. This extreme arrow delivers better performance due to it 360-degree spine consistency in a .244-inch standard shaft size. It has 2-inch vanes.
Read More : Antler Point Growing Out of Deer Eye Socket | Deer & Deer Hunting
MSRP: $49.99 (six pack) | feradyne.com
8. Axe Crossbows Combo Bolt Systems
Specifically designed to work with the Performance Optimized Axe® crossbow system, a new replacement bolt and Lit lighted nock combination is now available for both the Axe 405 and 440. Meeting the exact specifications of the factory-established parameters of each Axe Crossbows' .166 micro-diameter bolt system, the Axe Combo Bolts with Lit Axe Nock 3-Pack system is custom fit for Axe crossbows. Cut to length to fit each crossbow model respectively, the combo system features the proprietary .166-inch micro-diameter shaft fletched with three Fusion XII SL Vanes and the super-bright Axe Lit nocks. Bolts for the AX405 measure to factory specs of 17.38 inches in length while the AX440 bolts specifically fit the AX440 at 19.5 inches. Each option includes the metal injection-molded Lit lighted nock system that creates an audible click when properly secured to the crossbow's string. The super-bright LED system is initiated by the forward movement created by the strings to engage Nockturnal's patented crossbow string-activated linear switch with piston-driven assembly. Each AX440 bolt weighs 433 grains with a 100-grain point. The AX405 bolt weighs 414 grains with a 100-grain point.
MSRP: $89.99 for a three-pack | feradyne.com
9. Carbon Express Maxima Photon SD
Introducing Maxima Photon SD hunting arrows, a new premium arrow offering with optimized construction that generates a strong, accurate and deadly small-diameter hunting arrow from Carbon Express®.
Structured to offer a terminal blend of strength, integrity, speed and tunability, the .203" (inner diameter) Photon promotes hyper accuracy at all ranges, reduced wind drift, enhanced penetration and does not require special insert systems thanks to an aluminum half-out insert design. Fabricated from a custom weave of 30-ton carbon, the Photon boasts 25% faster recovery out of the bow than comparable models. When combined with patented Tri-Spine Technology, this exclusive blend of materials and construction generates up to four times the accuracy of traditionally constructed single-spine arrows. The aircraft-grade 7074 aluminum premium half-out insert system comes with a standard-thread 21-grain insert that offers the ability to add weight to customize F.O.C. to each user's preference, tune and arrow balance priority. On the nock end, each arrow is furnished with ultra-strong Bulldog nock collars designed to amplify strength on each arrow's back end and protect the precision-constructed Launchpad nocks. Launchpad Precision Nocks control the arrow release and integrated shaft alignment provide additional consistency and enhanced downrange accuracy.
An optimized mass weight carries energy proportional to its speed to deliver exceptionally fast flight without sacrifice to penetration or accuracy. Constructed with Carbon Express's exclusive Tri-Spine technology with 360-degree spine consistency to stabilize and maintain how the arrow flexes in flight. Like all arrows in the Carbon Express Maxima series, the Photon's weaker center section, or Red Zone™, helps to generate faster recovery out of the bow, while the distal ends remain stiff to contain arrow oscillation and control the enemy of hyper-accuracy, Dynamic Spine. This means greater accuracy at all distances, especially from broadhead-tipped arrows. Each shaft is laser checked for straightness to a remarkable 1/10,000 of an inch.
Available as 12-pack shafts or six-pack fletched arrows fletched with 2-inch Quadel Raptor X vanes in bright white and smoke gray.
MSRP: $249.99 per dozen (shafts); $134.99 per six-pack fletched arrows | feradyne.com
Also check out the top bows for 2023 here.
Source: https://raysthesteaks.com
Category: Hunting