The new crossbows for 2023 are faster, more accurate and quieter than ever.
1. TenPoint Flatline 460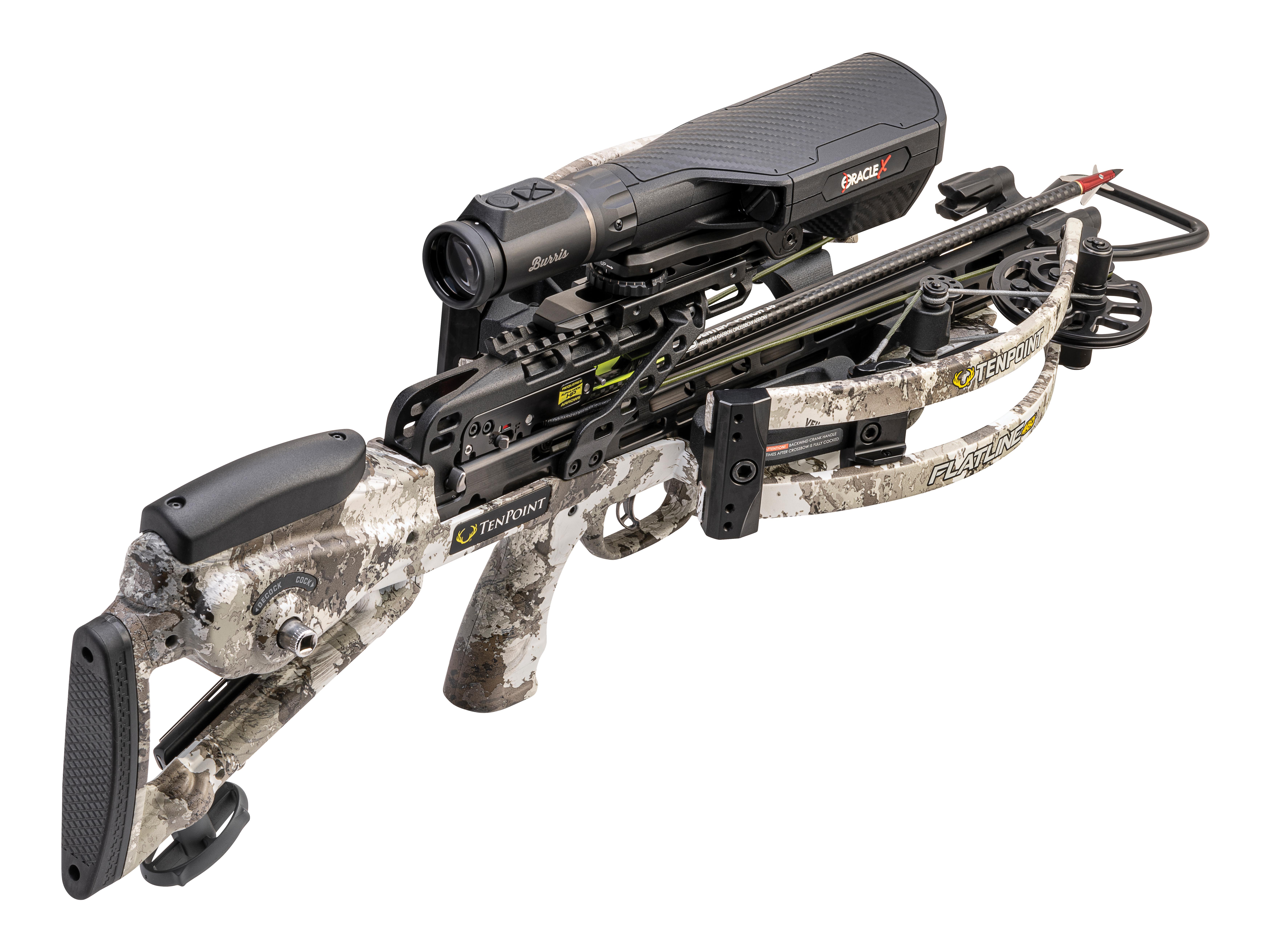 TenPoint's new Flatline 460 Oracle X with the Burris Oracle X rangefinding crossbow scope gets the job done quickly and efficiently. It launches arrows at 460 fps from a stable, comfortable platform measuring only 26.5 inches long and 7.5 inches wide, with a 14-inch power stroke. The RX8-Cam™ system produces such high speeds, and Vector-Quad™ cable technology utilizes four cables, eliminating cam lean and generating straight-nock travel for pinpoint accuracy. A new, 1.5-inch longer dovetail and new aluminum Scope Struts provide a rock-solid foundation for optics mounting. Plus, the center-mounted riser eliminates the nose-heavy feel of traditional crossbows. Its ultra-light, two-piece TEC-TACTICAL stock is built for comfort, with an adjustable buttplate of up to an inch for a perfect fit. The included Burris® Oracle X™ Rangefinding Crossbow Scope features a built-in laser rangefinder that is activated via wireless remote. It instantly ranges game up to 200 yards away, and allows for 20-yard aiming in the event of a battery failure. Other features include an ACUslide with Auto-Brake Gear System for safe de-cocking, S1 zero-creep 2-stage trigger, Veil Alpine camo and more.
MSRP: $3,299 | tenpointcrossbows.com
2. Wicked Ridge Blackhawk XT
The Blackhawk XT from Wicked Ridge provides numerous features and the power to take down big game at an affordable price. Made in America, it is equipped with the built-in ACUdraw or ACUdraw 50, making cocking and de-cocking the bow quiet and easy. The ACUdraw is a fully integrated, user-friendly crank cocking device that reduces the draw weight to 5 pounds. The ACUdraw 50 takes the 50% reduction rope-cocking concept to an easy-to-use level with self-retracting cords and hooks that magnetically store in the buttstock's unit when not in use. The bow's 175-pound draw design consists of a lightweight riser and machined aluminum limb pockets fitted with 11-inch WRX laminated limbs. Powered by heavy-duty, machined 5S Cams and DynaFLIGHT 97 string and cables, the Blackhawk XT measures a narrow 15 inches wide and drives arrows downrange at speeds up to 380 fps. Other features include a fully integrated fore-grip backed up with elongated safety wings to keep the shooter's hand safely below the bowstring's path. The fully enclosed triggerguard provides added safety from accidental discharge. Its stock also features a picatinny rail below the front of the barrel to mount additional accessories. The package includes a TenPoint 4×32 scope, three Alpha-Nock Carbon arrows, a cocking device, and a quiver.
MSRP: $549 with ACUdraw; $449 with ACUdraw 50 | tenpointcrossbows.com
3. Barnett Hyper XP 405
This new crossbow utilizes the HyperFlite narrow-diameter arrows for deeper penetration, less wind drift, increased durability and engineering for delivery of maximum kinetic energy. The Hyper XP 405 features a narrow, 10-inch-wide profile when cocked. The parallel limb configuration, combined with a track-mounted string damper, significantly reduces recoil and noise while enhancing accuracy. Pairing the Hyper XP 405 with 22-inch, .204-diameter HyperFlite arrows increases the arrow's flight and improves downrange accuracy with speeds to 405 fps and 138 foot-pounds of energy. Other features include a metal-injected molded trigger and TriggerTech Frictionless Release Technology. This provides a reliable, crisp, 3-pound pull for consistent shots and improved accuracy. An Anti-Dry Fire (ADF) system and a nock sensor ensure the crossbow cannot fire unless the arrow is loaded correctly. It also comes with finger safety reminders above the fore-grip, an adjustable buttstock for length-of-pull, and a 4-5x32mm red/green illuminated scope for bright or dim light.
MSRP: $599 | barnettcrossbows.com
4. AXE Crossbows AX440
Axe® Crossbows continues to define performance with the introduction of the AX440. At a maneuverable, stable and easily shouldered 30.5 inches long and less than 12 inches axle-to-axle (cocked), the weight of the 440 is centered over the shooter's hand by way of a balanced shoot-through stock and riser design, and reverse limb system. This configuration empowers the most efficient part of the split limb system from just 15 inches of power stroke to launch bolts at 440 fps. The Axe cam system is linked by cables that run parallel to each other, rather than from the top of one cam to the bottom of the other. This design eliminates cam lean and limb torque, and is further enhanced by a cable brace that engages the riser to aid in the limitation of flex away from the center of the crossbow. The stock of the AX440 also eliminates the rail and utilizes dual carbon guide rods along the entire length of the stock. Combined, all of these features create a free-floating arrow system that minimizes contact, friction and torque along the arrow's entire path. The result: greater efficiency, accuracy and speed.
MSRP: $2,099.99 | FERADYNE.COM
5. Bear Archery Constrictor Pro
The Constrictor Pro is a proven performer, redesigned for even more power on an extremely compact frame. The Constrictor Pro measures a mere 8.125 inches wide cocked, and roughly 12 inches wide uncocked, making it perfect for hunting in tight quarters. The crossbow is equipped with an ambidextrous top mount quiver that sits on a 360-degree pivot and allows the hunter to position the quiver in any orientation. This ready-to-hunt package includes Illuminated Reticle/Speed Adjustable Scope, three Bear X TrueX arrows, a four-arrow quiver, sling, manual cocking sled and arrow lube/string wax. Available in Stone/Veil Whitetail or Stone/TrueTimber Strata color and camo combinations.
Read More : Tips for Maintaining High-Speed Crossbows
MSRP: $699.99 | beararchery.com
CHECK OUT MORE NEW GEAR FOR 2023:
Top 14 Blinds, Treestands and Targets for 2023
Top 9 Bow Sights, Releases and Rests for 2023
Top 15 Broadheads for 2023
Top 9 Hunting Arrows for 2023
Top 10 Hunting Bows for 2023
Source: https://raysthesteaks.com
Category: Hunting