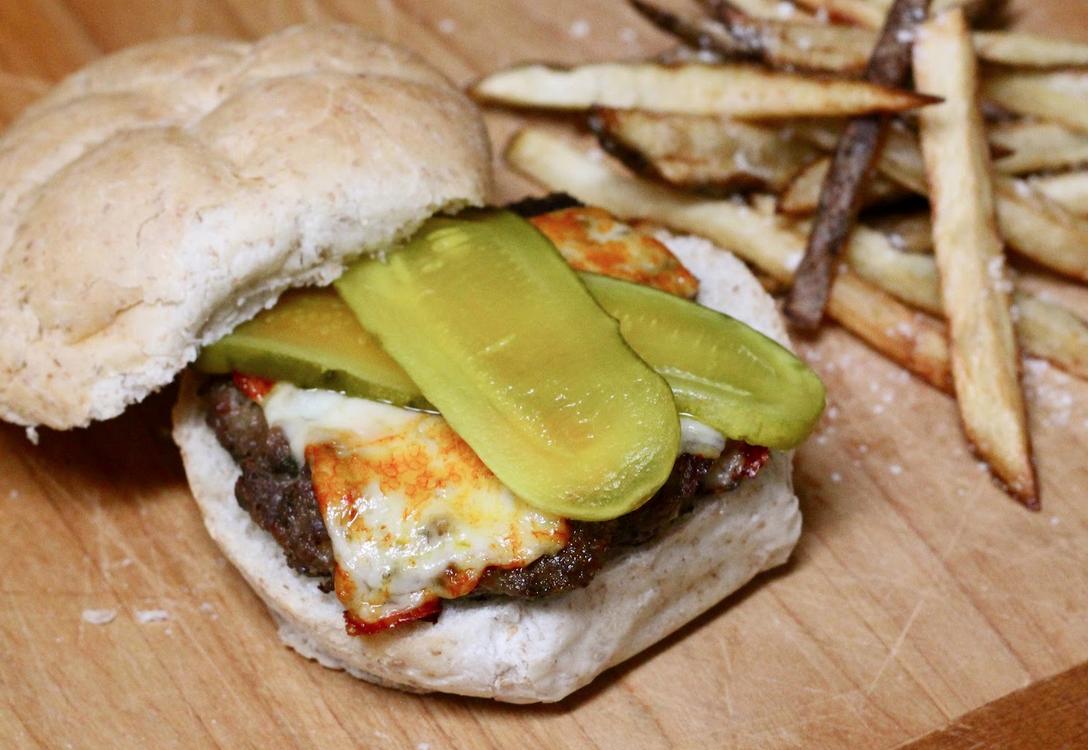 Kick up your best venison burger recipes a notch or two with some easy tips to make your summer grilling even better.
As much as I enjoy tasty and well-prepared deer meat, one of the saddest things is to see is an overcooked burger with a sad piece of non-melted processed "cheese" on a cold bun.
Where's that sad trombone? Wamp wamp waaaaahhhhh …
You are reading: 5 Great Ways to Make Your Best Venison Burgers Even Better
Venison is delicious and needs little in the way of flavor other than maybe salt and pepper. But we're all different and that's cool, so Joe may like nothing while Bob wants marinade and Jimmy thinks rare is best. George wouldn't eat anything that's not done and slathered in steak sauce, though, and his wife makes meatloaf that could be used as pavers for a yard sidewalk.
You don't have to throw open the pantry or spice rack to add a little zing to your venison burgers. With spring rolling around, at least here in the Southeast and in spurts and fits up north, it's time to start thinking about firing up the grill!
Here are five ways to make your venison burgers better without much effort:
Spicy Mustard: Good ol' American yellow mustard is a staple, but jack things up a level with some spicy brown mustard. It has a nice zing and with just a dash for that little bit of flavor, it's a nice addition. Take it up one more notch with stone ground mustard, like Inglehoffer's, for even more flavor. Just don't use too much.
Different pickles: – A solid, crunchy kosher dill is, to me, a must have for any good burger. Venison, beef, bison, whatever. Crisp pickles add some texture and crunch, both of which are important. I prefer the long slices instead of the chips, but either is fine.
Even better are homemade pickles or some with peppers and garlic that have a kick. Last summer I got some homemade pickles from Barnsley Resort and they were super. Another fave is Wickles Pickles, which have a spicy tang. Wickles has super relish for hot dogs and brats, too.
Cheese: C'mon, don't just go with the processed square of "cheese" we grew up with. That's akin to drenching venison in Italian dressing. Just don't (either of them) and you'll be better off. Your deer burgers will love you more for it, too.
Read More : This Whitetail Behavior is Most Puzzling | Whitetail Wisdom Blog | Deer & Deer Hunting
Get some nice cheddar and slice it yourself. Crumble in some bleu cheese with the ground venison before you make your patties, or on top of the burger just before you take it off the grill. Try some pepper jack or havarti with dill, one of my favorites. A smoked cheddar or gouda also might be nice, too.
Jalapenos: I love jalapenos because they have awesome flavor without being terribly hot, and by "terribly" I mean you can eat slices with seeds without having your head blow off. Now, some folks don't like even that much heat but still like a little kick. So, just remove the seeds. The firm flesh of the pepper ads some texture to your baked beans or burgers. Cut off the cap, cut in half and then remove the seeds. Then slice in strips or quarters to add to put in bowl.
For a different taste, do what our pal Scott Leysath, the Sporting Chef, does sometimes with his jalapenos. This is easy and cool, and gives them a super flavor.
"Take regular jalapenos, slice them and then macerate in sugar, and it just liquifies and makes them sweet but not hot," Leysath explained. "It takes about three hours and you can put them in a jar in your refrigerator and they'll last."
Maceration works by liquefying, just as we sometimes do in summer with strawberries or peaches. If you don't want the peppers as hot then remove the seeds before adding the sugar. That reduces the heat but still gives you a little kick. But leaving the seeds in isn't bad.
Leysath was right, as the macerated jalops were almost like a little spicy candy. Offer these as a condiment for a little hot-sweet bite.
Bacon: Duh, of course! Bacon makes everything better!
Today's recipe is from our good friends at the Food for Hunters site, where you can get a variety of fantastic recipes. I highly recommend you take a look and check out their venison dishes, along with their others.
Check out this cool cookbook, "Hunting for Food", which covers 13 species with great cooking preparation photos and super recipes. You can get Hunting for Food here.
Read More : 12 Best Public Land Deer Hunts in the Midwest | Deer & Deer Hunting
Welsh Rarebit Venison Burgers Servings: 4 Prep Time: 10 minutes Cooking Time: 6-10 minutes Ingredients: Cheese Mixture – 3 cups of white cheddar cheese, shredded (buy Irish Cheddar, if you can) – 1 tbs. cider vinegar – 1/2 tbs. dry mustard – 1/8 cup of whole milk – 1/4 cup of Guinness Stout – cracked pepper, to taste Burger – 1 lb. ground venison (ground with 20% bacon fat is best) – 1/2 cup of Panko bread crumbs – 2 tbs. dried parsley – 1/8 tsp. salt – 1/2 tsp. black pepper – hamburger buns – sliced dill or bread and butter pickles – corn oil, for brushing
1. In a medium bowl, combine cheese, vinegar, mustard, whole milk, cracked pepper and Guinness. Mix well. Set aside to allow ingredients to marry.
2. In a large bowl, combine ground venison, 1/8 tsp. salt, 1/2 tsp. ground pepper and 2 tbs. dried parsley. Mix well.
3. Next, add 2/3 of the cheese mixture into the venison, reserving the rest for later. Then add 1/2 cup of Panko breadcrumbs. Combine well.
4. Prepare your grill. Form meat into 4 patties. Brush grill with corn oil to prevent sticking. Grill venison burgers, about 3-5 minutes on each side, or until just cooked through. When the second side is just about done, pile the rest of the cheese mixture on top of each patty, close the lid and allow cheese to melt. You can also do this under the broiler to get a nice golden brown color.
Serve burgers with pickles and homemade french fries. *Do not overcook venison burgers. Ground venison dries out quickly.
_______________________________
Get The Ulimate Deer Hunter's CookbookMouth-watering recipes have made 301 Venison Recipes a hunter's classic. A fantastic selection of appetizers and main meals fill the pages of this lay-flat and easy-to-use cookbook. If you need to feed a hungry bunch at deer camp, or serve special guests in your home, look no further.
Get yours here now …
Source: https://raysthesteaks.com
Category: Hunting