Access small and uneven areas without big equipment, create entry and exit routes, draw in deer and more with the new food plot seeds and equipment for 2021.
1. Chapin 97561 25-Gallon Mixes on Exit 12v, 2.2 GPM ATV Spot Sprayer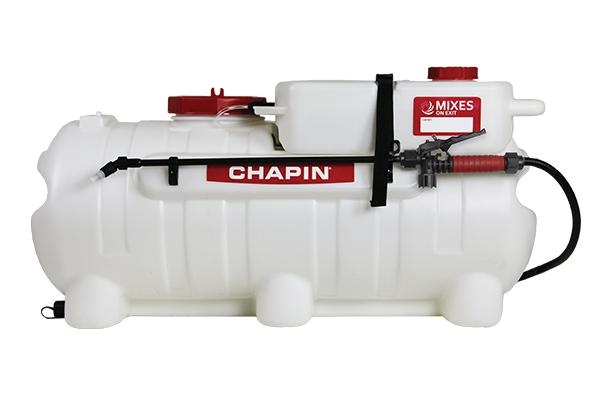 Stop wasting water, chemical concentrate and time with Chapin's Mixes on Exit Sprayer. This clean-tank spraying system separates water and concentrate tanks to prevent the messy and wasteful premixing of chemicals. With additional concentrate tanks available (sold separately), you can swap your chemicals out on the fly. This is great for fertilizers, fungicides, herbicides, pesticides, and general weed control. Tank size combos include a 15-gallon water tank with 1.33-gallon concentrate tanks, or the 25-gallon option with 2-gallon concentrate tank. An adjustable mix valve mixes the concentrate and water as you spray, from 1 to 15 ounces per gallon. Plus, a Quick Connect fitting makes it easy to swap concentrate tanks (additional concentrate tanks sold separately). So, keep and store those concentrate tanks for later use. The poly nozzle adjusts from a tight stream to fine cone mist, tank mouth opening is 6 inches, and the unit uses a diaphragm pump type. It has 0.4- to 0.5-gpm spray and flow rate, offers switchable boom and spot spray functions (boom spray kits sold separately), has a drain cap to quickly empty the water tank, has 180 inches of PVC-reinforced hose, and more. It weighs 31 pounds, and measures 38×19.5×19.5 inches. It boasts a 40-60 psi operating pressure, 25-feet vertical spray stream, 23-feet horizontal spray stream, 20-inch extension wand length, double filtration, and a one-year limited warranty.
MSRP: $229.99 | https://chapinmfg.com/
2. Chapin GameKeeper 6324 25-Pound Handheld Bag Seeder
Seeding a new food plot? Plant and fertilize your plot with the Chapin GameKeeper 6324 Handheld Bag Seeder. This 25-pound capacity broadcasting machine is great for smaller areas and locations where a traditional spreader can't go. It weighs 3.7 pounds and is 16x8x16 inches in size. It sports an ergonomic, metal-alloy hand crank, gate control lever, adjustable gate opening, metal-alloy gear construction, enclosed gear box, round impeller, waterproof canvas hopper, adjustable shoulder strap, and a gravity-style agitator. It also has a heavy-duty, water resistant zipper up top, is very compatible with a variety of seeds and granular fertilizers, has a calibrated flow rate adjuster with easy on/off control, and provides a convenient application chart on the bottom of the spreader. It has a five-year limited warranty.
MSRP: $39.99 | https://chapinmfg.com/
3. Chapin 8620B 150-Pound Tow Behind Spreader
Want a little bigger spreader? The Chapin 8620B 150-Pound Tow Behind Spreader does the trick. No more wasted seed or fertilizer. No more reaching and straining to stop the spreader. No more fussing with control while moving. No more uneven applications. This model's Auto-Stop dual impeller stops spreading when not in motion, oil-impregnated bronze bearings minimize friction on the axle and gear box, and a spiked auger breaks up heavier chunks of material. It sports a powder-coated steel frame, metal-alloy gear construction, enclosed gear box with grease fittings, metal-alloy axle, poly hopper construction, wide-tread 14-inch pneumatic tires, 11 incremental gate adjustment settings for accurate application, and a heavy-duty trailer hitch. It weighs 41.2 pounds, and is 26x36x36 inches in size. This is not for use with lime products such as pelletized lime, lime powder and Agri lime. Comes with a limited lifetime warranty.
MSRP: $225.99 | https://chapinmfg.com/
4. Firminator G-3 ATV Unit
The original Firminator was a brilliant solution for land managers looking to maximize their time, energy and financial resources by incorporating all the necessary food plot implements into one unit. However, as the popularity of food plots continues to grow, so does the demand from an increasingly broader and more diverse group of hunters and land stewards. Great plot locations are often irregularly shaped and not easily accessible by heavy equipment. These sights may be well off the beaten path, down narrow trails, or on smaller ridges. These places are not easily accessible by heavy equipment and implements. The Firminator met all of these demands by scaling down existing technology to create the Firminator G-3 ATV model. It puts all the same features of their full-size G3 implement into a single unit sized just right for an ATV (500 cc or greater). The frame material consists of 3-inch square tubing, and the entire unit weighs 860 pounds. It has a 34×14.5×12-inch hopper, a two-bushel seed capacity, a 32-inch discing width, and a 34-inch cultipacker width. It utilizes the tow-behind method, and incorporates either a 1 7/8-inch ball or three-point hitch.
Read More : Muzzleloaders + Modern Technology = Longer Ethical Hunting Distances
MSRP: contact for pricing | http://thefirminator.com/products/atv/
5. Aluma 7710H Utility Trailer
Need a new trailer? Check out the Aluma 7710H Utility Trailer. Its 3,500-pound rubber torsion axle is rated at 2,990 pounds. It also comes with radial tires, aluminum wheels, fenders and floor, front and side retaining rails, 48-inch A-framed aluminum tongue (with 2-inch coupler), and a 1,200-pound-capacity swivel tongue jack. This trailer even has an LED lighting package, safety chains, four stake pockets (two per side), four tie-down loops (two per side), and a 77.5-inch-wide by 44- or 60-inch-long aluminum tailgate. Its overall width is 101.5 inches, and overall length is either 176 inches (7710H) or 194.5 inches (7712H). Choose from a long list of additional trailer combos and options.
MSRP: contact for pricing | https://www.alumaklm.com/
6. Real World Wildlife Products Giant Miscanthus
Real World Giant Miscanthus is a screen product that provides solutions for line-of-sight access issues on their property. Real World Giant Miscanthus is unlike anything on the market. Testing for this specific variety has been done all over the United States. Giant Miscanthus is certified, sterile and noninvasive, but it gets taller and thicker than anything on the market. This is the perfect product for hunters or land managers to conceal road edges, property lines, create entrance and exit routes to stand sites, or to funnel deer a specific direction. By planting three to five rows of Giant Miscanthus rhizomes on an 18-inch offset grid, you will have a wall that will not fall for many years to come. Annual screen products on the market simply do not withstand the winter conditions and provide a year-round solution. But Giant Miscanthus stands strong. When placing orders for Giant Miscanthus rhizomes, choose a shipment date from our planting date guide. Real World Giant Miscanthus rhizomes ship to you fresh and ready to plant.
MSRP: $75 (one bag of 100 rhizomes) | www.realworldwildlifeproducts.com
7. Chestnut Hill Dunstan Chestnuts
The American chestnut was once the most important food and timber tree in the Eastern American hardwood forests. Nutrient-dense chestnuts served as the primary mast source for a wide range of wildlife, including bears, turkeys, squirrels, hogs, and especially whitetails. In 1904, a fungal chestnut blight was accidentally imported from Asia. By 1950, the blight had decimated 30 million acres of chestnut forests, leaving a nutritional gap in the American hardwood ecosystem and dramatically altering the landscape. Today, the Dunstan Chestnut fills that gap. Bred by noted plant breeder Dr. Robert Dunstan, the Dunstan Chestnut has demonstrated 50 years of success throughout the United States. A result of cross-breeding American and Chinese varieties, the Dunstan produces the large, sweet nut of the American chestnut, and holds the blight-resistant qualities of the Chinese chestnut. Building on the foundations of Dr. Dunstan's work, they continue to share knowledge and passion for living things by serving as a nationally-recognized leader in the introduction of new plant varieties that thrive in a range of habitats. Fortunately, the Dunstan Chestnut is the perfect food plot tree. This hardy species has a vast growing range that stretches from Florida to Wisconsin. Chestnuts bear nuts in three to five years, compared to 10-20 years for oaks, and can produce up to 2,000 pounds per acre at maturity. Chestnut also produces nuts annually, whereas oak only produces mast every other year. Serious about deer management? Plant Dunstan Chestnuts. Watch them flourish, produce mast, and draw deer.
MSRP: contact for pricing | https://chestnuthilltreefarm.com/shop/
8. Antler King Great 8
Read More : SHOT Show 2015: Hot New Rifles, Handguns Land With a Bang | Deer & Deer Hunting
Known for premium food plot products, Antler King's latest release is Great 8, which is a specially-designed blend that features eight key seed varieties. Forage peas grows fast and are loaded with protein. Tetraploid ryegrass offers quick growth and three times more sugar content than basic ryegrass, making it a great early bow season choice for deer. Cereal rye provides an all-season food source, and adds organic matter and nitrogen back into the soil for next fall's plot. Buckwheat contains 13% protein and boosts fat and fiber within the diet. Turnips are great high-protein food sources during the rut, as these plants become more palatable after freezing temps trigger the rising glucose levels. Radishes stretch up to 24 inches tall, producing tons of forage. Forage rape helps combat overgrazing, and provides protein levels up to 30%, and supplies fiber levels up to 15%. Winter oats have high sugar content and tonnage for wintertime energy. Each of these mature at different times to ensure food sources are available to deer throughout the year. Plus, staggered maturity dates help provide constant attraction from opening to closing day. This blend is loaded with protein and carbohydrates, and it comes in an 8-pound bag that plants ¼ acre.
MSRP: $19.99 | https://antlerking.com/
9. Antler King Small Town Throw Down
Antler King's Small Town Throw Down is a mixture of five perennials and annuals. This multi-purpose food plot mix offers popular plant species for both the early and late season, but cool weather increases consumption. It offers unique varieties of buckwheat, canola, chicory, clover, kale, and rye. These species establish fast and grow quickly. Planted in the spring, summer or early fall, Small Town Throw Down matures in 50-90 days. While a 6.0-7.0 pH is preferred, it can grow in a wide variety of soil conditions and is a little more tolerant to soil acidity than many food plot mixes. Plant less than ¼-inch deep. Once established, expect multiple seasons of growth, as both the clover and chicory are perennial plant varieties. A 4-pound bag plants ¼ acre.
MSRP: $23.99-$119.99 | https://antlerking.com/
10. Wildgame Innovations Pile Driv'R
Pulling deer into shooting range or putting them directly in front of trail cameras can take a little something extra. Wildgame Innovations Pile Driv'R is an extremely affordable, high-volume attractant that puts big bucks right where you want them. The sweet and savory aroma attracts deer from long ranges and is a great option for late-season supplement when deer herds need it most. It offers 12% fat, 17% protein, and comes in 5-pound bags. Deer love it. You will, too.
MSRP: $5.99 | https://www.wildgameinnovations.com/
11. Evolved Mean Bean Pro
Mean Bean Pro by Evolved is a proprietary seed blend of lablab, high-yielding cowpeas and specially selected forage soybeans. These legumes combine to create a nutrient-packed forage rich in protein and calcium. This supplements deer diets during critical times for antler mass development. Plus, Mean Bean Pro is now backed by ProGro Biostimulant, which is a proprietary seed coating that helps grow stronger and healthier plants. This yields larger plants and more forage per acre. It's sold in 10-pound bags and covers 11,000 square feet (¼ acre). Planting recommendations for this annual include a soil pH range of 6.0-7.5, proper tilling, and a planting depth of less than ½ inch.
MSRP: $34.99 | https://www.evolved.com/
Source: https://raysthesteaks.com
Category: Hunting