The new broadheads for 2023 cut big wound channels, are quieter and more accurate in flight, and create deeper penetration on impact. Check out what's available for this year below.
1. NAP Ignite 3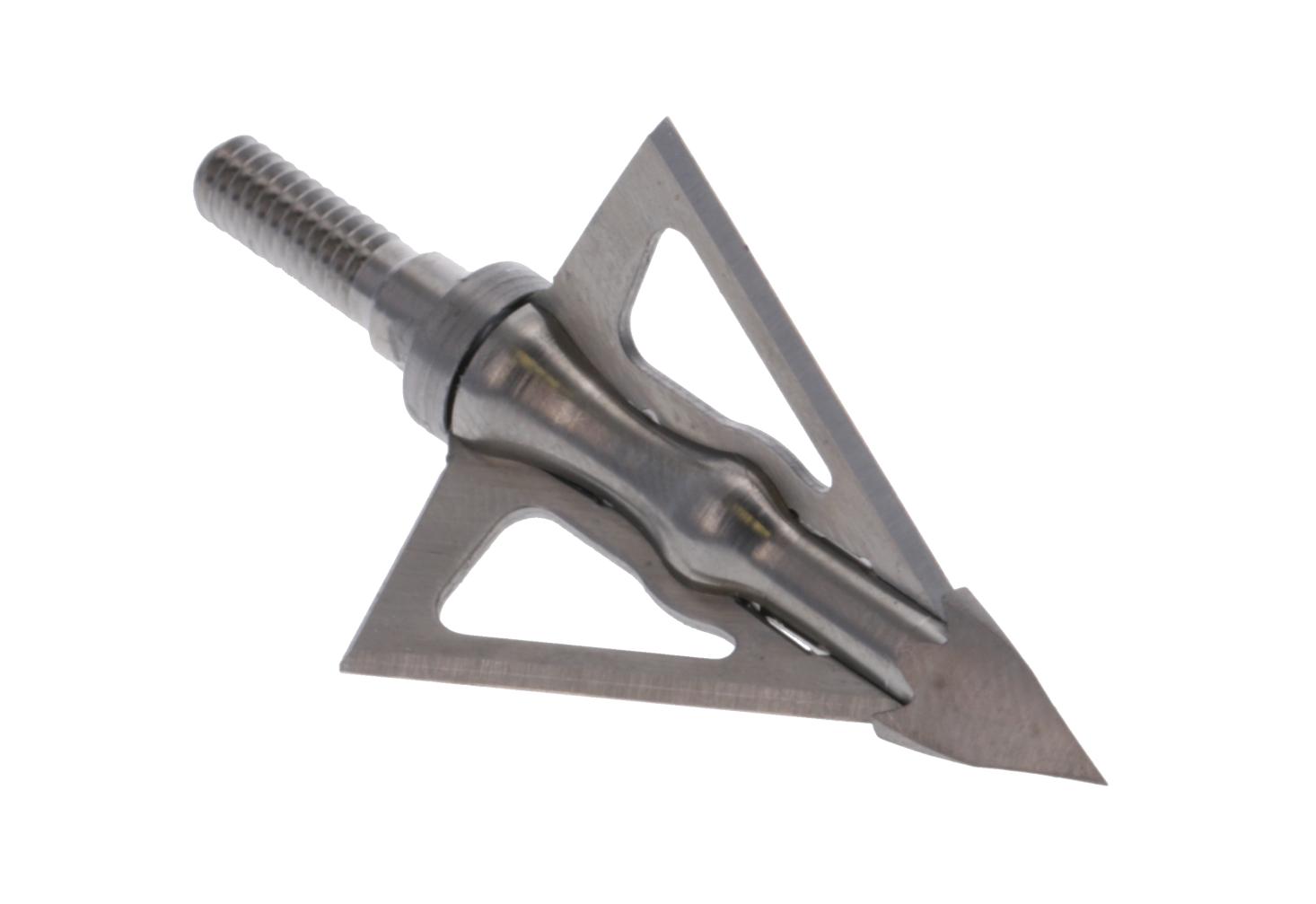 The Ignite 3 by NAP is a reliable three-blade broadhead. Each one is constructed of one-piece, tough CNC-machined titanium ferrules to ensure true flight. Stainless-steel fixed blades are held securely in place by the X-lock™ blade system. Overall, this 100-grain broadhead cuts a brutal 1-3/16-inch wound channel. Furthermore, blades are easy to replace, and one set of replacement blades are included. It's spin-tested for optimal flight performance.
newarchery.com
2. NAP Backflip 2 Broadheads
The one-piece ferrules of NAP's Backflip 2 two-blade broadheads are CNC machined from grade-5 titanium to deliver hard-hitting durability, accuracy, and consistency afield. This razor-sharp mechanical and its easy-to-replace stainless steel blades expand from an aerodynamic 11/16-inch in-flight diameter to 1¾-inches upon impact, cutting wide, slicing deep, and leaving massive blood trails in their wake. Each broadhead weighs 100 grains and is individually spin-tested for optimal performance, ensuring their flight path closely mirrors that of your field points. Comes with one set of replacement blades.
newarchery.com
3. SEVR Robusto 2.0
This 150-grain broadhead uses a specially hardened stainless steel, which is stronger than standard Titanium. The Robusto has improved accuracy and increased momentum for today's high-speed crossbows. Its 2-inch cut diameter thanks to its Max-Cut 2.0 blade technology offers improved penetration and the largest possible entry and exit wounds. The broadhead also features a machined one-piece ferrule and precision-ground tip. SEVR's patented Lock-and-Pivot non-barbed blades lock open on impact. The blades then pivot as needed to keep arrows driving straight through game even on steep quartering shots and bone impacts. This increases penetration versus regular rear-deploy non-pivoting broadheads. The Stretch Cut blade effect stretches the hide while cutting for a larger-than-blade wound diameter for bigger blood trails and easier recovery. And for hunting practice, SEVR's exclusive patented Practice Lock keeps the blades locked and contained so you can practice with actual broadheads to verify true point-of-impact without dulling blades.
$15.99 | sevrbroadheads.com
4. Trophy Taker Shuttle T-LOK Maverick
Trophy Taker's Shuttle T-LOK was inspired by NASA's space shuttle design and its aerodynamic functionality. As a result, the Shuttle T-LOK flies quietly, consistently, and the penetration is great. The new Shuttle T-LOC Maverick was intended to advance an already successful broadhead with even more cutting surface by adding a fourth blade. This four-blade broadhead is even quieter and more accurate in flight, while providing a 1-3/16-inch cutting diameter and an overall total cutting surface of 3 inches. This 100-grain offering is made of 100% heat-treated stainless steel, providing maximum durability. The T-shaped design keeps the blades from separating on impact. The Shuttle T-LOK Maverick is available in May 2023 at retailers around the United States.
MSRP: three-pack is $44.99 | trophytaker.com
5. SIK SK2
The SK2 by SIK is an excellent two-blade, rear-deploying, 100-grain mechanical broadhead. This field-point-accurate option uses patented FliteLoc Technology to guarantee the signature Offset Blade Design will deploy on impact. This produces a 2-inch offset entry wound and a 3.625-inch cutting surface.
MSRP: $49.99 | beararchery.com
6. Ramcat Hemoshock Broadhead
Read More : ___________
The Hemoshock by Ramcat leans on field-point-like accuracy, massive entry wounds, and severe internal damage. The Hemoshock uses the Air Foil Technology found on other Ramcat broadheads. Bowhunters will find this design to fly very accurately. Combined with a 2¼-inch expandable cutting surface, this is the largest, most lethal Ramcat available. The innovative O-Ring blade deployment design allows archers to adjust based on bow type (compound or crossbow) or draw weight. This versatility allows for all bowhunters and crossbow hunters to use the same broadhead, without special collars or questions to worry about. The 100-grain Hemoshock will be available in May 2023.
MSRP: three-pack is $44.99 | ramcatbroadheads.com
7. Ramcat Hydroshock Pivoting Broadhead
This unique design was one of the most popular choices for this year among bowhunters. It has been called the most accurate, deepest penetrating fixed blade broadhead. Incorporating proven aircraft technology, the Hydroshock flies exactly like a field point when shot from any bow, at any speed. The patented Airfoil System creates field point accuracy while Firenock Aero Concentric Technology eliminates thread slip and the Back-Cut Technology features both front and rear sharpened blades. 100 grains.
MSRP: $34.99 for three | ramcatbroadheads.com
8. Ramcat Hemoshock DP
The Hemoshock DP is an exciting new addition to the Ramcat line and is specifically designed to create deeper penetration on impact for all bowhunters — no matter their draw weight or energy. "There's a fine line with cutting diameter and overall penetration, and especially for bowhunters that have lower draw weights and draw lengths. This is a major consideration when choosing a broadhead," said Jaime Dykman – Arcus Hunting, LLC Director of Product Development. "We engineered this broadhead to have a more narrow three-blade angle and profile designed to increase penetration without sacrificing overall cutting surface. You get all the foundational Ramcat technologies, with deeper penetration and a 2-inch cutting surface, making the Hemoshock DP one of the most accurate and reliable broadheads on the market."
The Hemoshock DP will be available in May 2023 at retailers around the United States.
MSRP: three-pack is $44.99 | ramcatbroadheads.com
9. Rage Hypodermic Trypan NC Crossbow
The Hypodermic Trypan NC Crossbow by Rage is an excellent two-blade broadhead in a 100-grain offering. It features a titanium streamlined ferrule, Hypodermic tip, and a No-Collar Blade Lock. This technology eliminates the need for a Shock Collar, dental band, or O-ring, while still providing a reliable blade-retention system. Its 2-inch blades are .039 inch thick and offer a swept-back blade design. Overall, it has a narrow profile with a needle-like titanium ferrule to improve accuracy. Comes in a two-pack.
MSRP: $44.99 | feradyne.com
10. Rage Expands NC Offerings
Upon their introduction Rage® Broadheads revolutionized the way bowhunters viewed the function and reliability of mechanical broadheads. The SlipCam™ blade deployment technology brought confidence to woodlots everywhere with intense blood trails and exceptional results. Today, Rage continues to revolutionize broadhead design with the addition of proven NC (No Collar™) technology to three classic Rage designs — the original Rage 2-Blade, the Rage 2-Blade Chisel-tip and Rage Crossbow X broadheads in both 100 and 125 grains.
The integration of NC technology into Rage's classic designs further enhances each head's reliability and functionality in the field. Newly incorporated NC (No Collar) technology integrated blade containment system utilizes cutting-edge finger-like tabs on the blades' pivot point to "anchor" the blades in place while in the closed position. This technology completely eliminates the need for a Shock Collar, dental band or O-ring, while still providing a 100% reliable blade retention system.
Each 2-blade version incorporates premium-grade aluminum ferrules and ultra-tough .035" thick and razor-sharp stainless-steel blades for exceptional performance on game animals of all sizes. The integration of NC technology eliminates the Shock Collar, while still maintaining excellent blade retention, huge entry wounds and the deep wound channels.
feradyne.com
11. Dead Ringer Super Freak Extreme
Read More : Sunday Hunting Bans: Separation of Church and Scrape | Deer & Deer Hunting
The Super Freak Extreme™ by Dead Ringer is a devastating broadhead. It leaves a massive exit wound. This broadhead is designed to deploy on impact and engineered to work well even on heavily angled shots. Furthermore, it sports a heavy-duty trocar tip design, a durable O-ring to lock down blades until contact, and a high-quality, aircraft-aluminum ferrule for overall strength. Its .032-inch stainless spring steel blades are tough, but easy to replace. It's hard not to go with this 2¾-inch cutting diameter option.
deadringerhunting.com
12. Muzzy TROCAR HB-TI
The TROCAR HB-TI by Muzzy is a phenomenal four-blade broadhead. This 100-grain offering has a machined titanium ferrule and chisel tip. It sports a 1-inch fixed blade that's .05-inch thick, and a 1-5/8-inch expandable cutting diameter that's .039-inch thick. It comes in a pack of three. Replacement blades are available.
MSRP: $54.99 | feradyne.com
13. Swhacker Steel Force Premium
The Steel Force Premium two-blade broadhead is constructed from knife-grade, non-serrated stainless steel. It's precision cut using the latest laser equipment, and carefully tempered to 49-51 Rockwell hardness. Each head is individually ground, stropped to a razor finish, and then assembled and tested for absolute uniformity. Its aggressive angle of attack produces superior penetration. This 1-inch cut-on-contact broadhead is durable, but replaceable main blades are available. The patented blade-locking system is designed to prevent failures.
swhacker.com
14. G5 MegaMeat
The MegaMeat by G5 is a three-blade design with a massive 2-inch cutting diameter. It creates a lot of damage thanks to its accurate build, solid-steel blades, and durable chisel tip. Its rearward-sliding blades are designed for better cutting on impact. All blades and collars are replaceable with the Replacement Blade Kit, which includes blades and SnapLock collars. Crossbow versions are available, too. Made with high-speed crossbows in mind, the SnapLock™ collar locks blades in place during flight, yet quickly releases the blades upon impact. Comes in 100 or 125 grains.
g5outdoors.com
15. Grim Reaper Pro Series Micro Hybrid Broadheads
Grim Reaper Broadheads is the inventor of Razortip Technology — patented mini-tip blade(s) that greatly enhance penetration. Their new practice heads are available now as well as new crossbow broadheads, designed specifically for 400 fps and faster crossbows. The company also has a 2" 3-Blade Whitetail Special. Grim Reaper's goal is to constantly improving and strengthening their already lethal heads for maximum penetration, huge entrance holes, as well as shorter blood trails. New for 2023 is the Pro Series Micro Hybrid Broadhead. This broadhead is designed for pinpoint accuracy at super-high speeds. It offers effective penetration and durability. With 100% stainless steel, two blades are fixed and two are mechanicals. The Pro Series Micro Hybrid Broadhead is offered in 100 or 125 grains, and it comes in a three-pack.
MSRP: $49.99
grimreaperbroadheads.com
Check out the other new gear for 2023:
Source: https://raysthesteaks.com
Category: Hunting