No matter where you hunt, the 2023 lineup of blinds and treestands has something for everyone. Don't forget to check out the new targets as well for fun ways to get your practice in!
1. Hawk Helium Pro Hang-On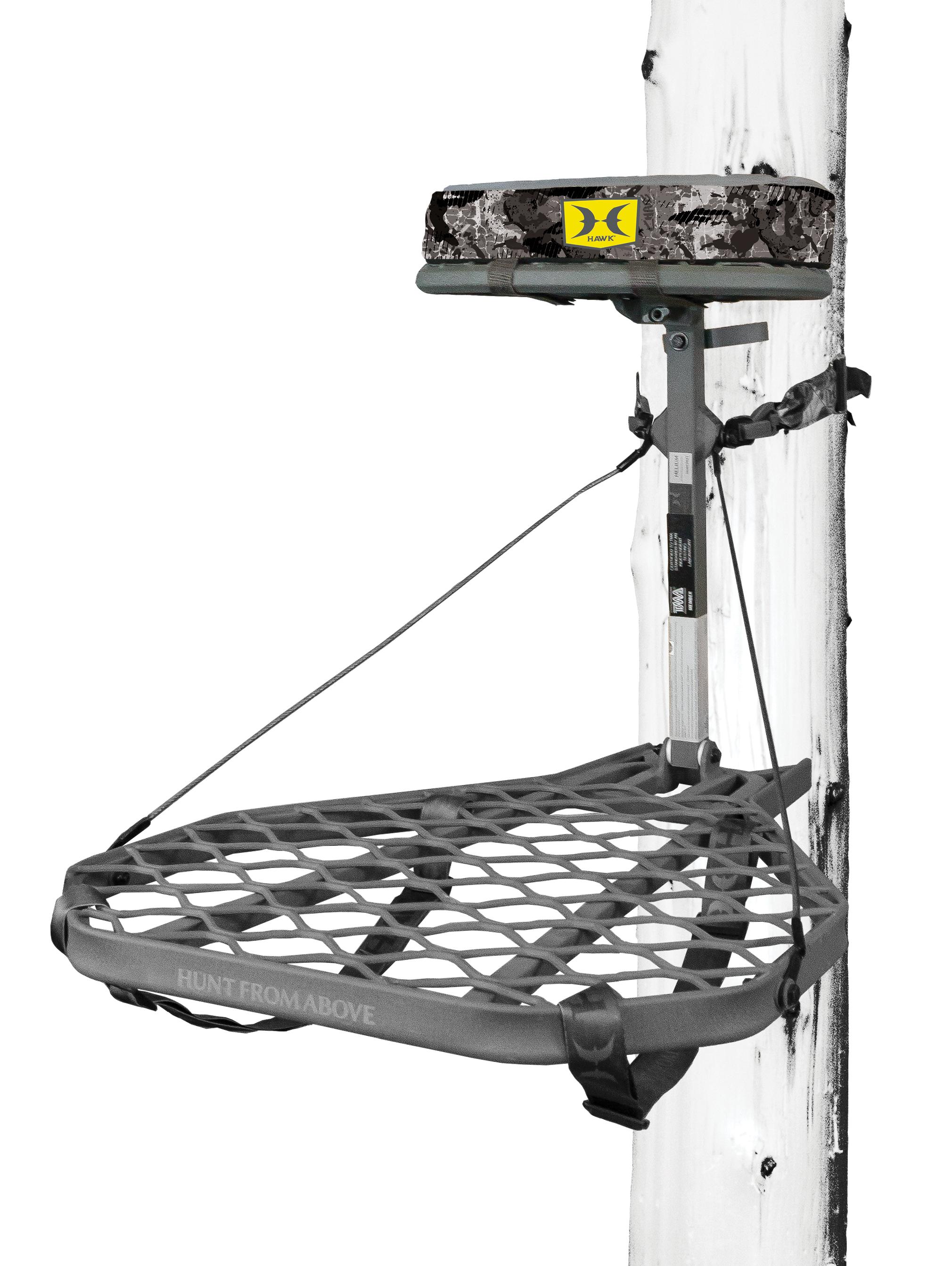 The Helium Pro Hang-On gives mobile hunters lightweight, rock-solid performance at an affordable price. Technologically advanced aluminum keeps the stand to only 12 pounds, and staying quiet has never been easier with an ergonomic platform design that's welded at all contact points, and includes self-lubricating Teflon washers between metal-to-metal contact points. The platform measures a generous 24 inches wide by 30 inches deep, offering good room for long sits. Speaking of long sits, the stand also provides pressure-relieving comfort with 3 inches of HAWK memory foam that forms to the body. For ultimate stability, the Helium Pro comes standard with included Tree-Digger teeth to bite and grip bark, and can be used with HAWK's optional Cruzr Bracket to make hanging safe, quick and easy.
MSRP: $319.99 | hawkhunting.com
2. Shadow Hunter Marksman 6×6 Octagon Archery Blind
Tired of bowhunting out of a box blind designed for gun hunting? Then you'll appreciate Shadow Hunter's Marksman 6×6 Octagon Archery Hunting Blind. With a maximum height of 7 feet, the Marksman Archery Blind provides the same multiperson capacity as the popular 6×6-foot Octagon Hunting Blind, but with longer and reconfigured windows for drawing your bow with ease. The blind offers a full 360-degree archery configuration with ample room for multiple hunters, or for setting up recording equipment to film your hunt. Concealed in Vengeance camo, this blind has eight total windows, including five 8×24.5-inch windows for archery shots. It also utilizes the same SHADOWVIEW window system as all other Marksman blinds, keeping you blacked out while providing customizable windows to fit your own concealment needs. Handy add-ons like corner and upper shelves, a weapon holder and double coat hooks will make you want to hunt all day.
MSRP: $3,299.99 | shadowhunterblinds.com
3. Summit Viper Pro SD Climber
The Viper PRO SD closed-front climber incorporates a redesigned Quick Draw PRO cable retention system with built-in comfort grips and a quick-connect trigger to make cable adjustments fast and simple. To prevent theft, pins can be safely removed to add a cable or padlock, ensuring your stand stays put after every hunt. Weighing just 22 pounds, this aluminum climber will hold hunters up to 300 pounds, while still offering maximum comfort with Summit's standard foam-padded suspended seat and adjustable backrest. The FasTrack accessory system uses a rail on the top seat frame to keep binoculars, calls and other hunting gear within arm's reach. The one-piece wraparound armpad that fully covers the front rail and both armrests keeps the Viper PRO SD cozy and deadly silent. To perfectly blend into your unique hunting setting, the Viper PRO SD comes in both Mossy Oak Elements and Terra Gila camouflage patterns.
MSRP: $479.99 | summitstands.com
4. Millennium Q-250 Solo Buck Hut
Archers in the market for a quality shooting house need look no further than the Q-250 Solo Buck Hut. The Buck Hut features Millennium's SteelTOUGH construction, utilizing heavy-duty, powder-coated steel for the framework, platform and ladder, with a rugged, water-resistant exterior shell fabric to keep out the elements. A reinforced tripod configuration keeps it stable, while Millennium's SilentHUNT design keeps things nice and quiet. A zip-open, walk-through door with handrails provides safe entry and exit. Inside dimensions measure 4×4 feet, while the 7-foot interior height provides plenty of room to take standing shots. The Hut features five large windows that can be configured for most shots, while crossbow archers will appreciate adjustable shooting rests at all windows. Even the door doubles as a window, so you'll always see what's happening behind you. Black windows and an all-black interior provide ultimate hunter concealment.
MSRP: $699.99 | millenniumstands.com
5. Muddy Outdoors Trap Door Platform
Do you want to hunt elevated in the safe and well-concealed confines of an enclosed blind, but shy away from venturing 10 feet or more off the ground? Many of today's bowhunters consistently bag huge bucks from just a few feet up while hiding out in enclosed blinds, proving you don't need to hunt from highly elevated stands or sit in a saddle. Enter the Trap Door Platform from Muddy Outdoors. Made of powder-coated steel, the Trap Door Platform measures an impressive 65×65 inches, easily holding most popular ground blinds. The platform is elevated to 5 feet, keeping anxiety from heights to a minimum, while providing a secure stage for your favorite hunting shelter. A stealthy trap door entry and exit keeps you undetected, and a weight rating of 500 pounds means the Platform will hold multiple hunters safely and securely.
MSRP: $329.99 | gomuddy.com
6. Rivers Edge Lockdown 21′ Wide
The Lockdown 21′ Wide ladder stand from Rivers Edge was designed specifically for hunters who plan to sit all day, maximizing comfort and utility to ambush bucks midday. A wide, flip-up TearTuff mesh seat will make you feel like you're sitting back in the hunting lodge, and the Ultimate Shooting Rail can be adjusted for both height and length based on personal preference and hunting weapon. The Ultimate Shooting Rail and an integrated Flip-Up footrest can both be stowed away in the platform, making it easy to get in and out of the stand, while also providing ease of movement for vertical bowhunters. The height to the shooting rail is nearly 21 feet (18 feet to the platform), helping you obtain good concealment from whitetails. Safety is a premium for all hunters, so the Lockdown uses patent-pending Ground-Level Ratcheting Technology to attach the stand to the tree from the ground, making it infinitely safer to ascend than other stands.
MSRP: $449.99 | huntriversedge.com
7. Maverick XL Blind
Room to move is the buzzword this year for hunting blinds. Maverick Blinds debuted its biggest and most versatile blind yet with its new Maverick XL. With a 7-foot diameter, more than 6 feet of inside height and a generous door opening, the Maverick XL offers plenty of room for gear and even an extra hunting buddy.
Read More : Today We Honor the Patron Saint of Hunters | Deer & Deer Hunting
The Maverick XL Blind has nine side-opening windows that open and close quietly on smooth friction hinges. These windows allow for 360-degree viewing and shooting with a gun, bow, or crossbow. Maverick's patented two-piece design makes it easy to set up in the field or woods. A 2-inch bottom flange helps secure the blind to the ground or an elevated platform.
A slide-lock door seal and window seals come standard on the Maverick XL. The new blind design also has an overhang above the windows to provide an added layer of protection from the elements. A 2-inch rain guard at the seam guarantees that water stays out.
The rotomolded polyethylene construction is extremely durable, UV-stabilized, and paintable. The Maverick XL is available in black, brown, and green with clear or tinted plexiglass windows.
MSRP: Varies | maverickhunting.com
8. Redneck Blinds Game Changer
Sitting in a blind, whether on the ground or elevated, comes with some pros and cons. Mostly the pros, though, because you're comfortable, hidden and can move around a bit more freely. Also, hunting with youngsters or new hunters is better in a blind. With 10 windows and the ability to comfortably seat three to four adults, the Game Changer Blind from Redneck is definitely one to consider.
With a total of 10 windows, you will have plenty of visibility and angles to make the perfect shot whether you are shooting a vertical bow, crossbow, or firearm. The large, tempered automotive-glass windows are tinted to help obscure your movements from eagle-eyed whitetails. They open quietly and have enough width and height to allow for bow, crossbow and firearm movement to make the shot.
At a spacious 6 feet tall and 8 feet wide, this comfortable blind can even accommodate a small cot or air mattress for overnight stays, or mid-afternoon siestas. The Game Changer Blind is crafted with long-lasting fiberglass and has a durable gel-coat finish. A 2-inch roof overhang and window drip ledge help keep rain off the windows. The interior has a closed-cell foam insulated ceiling, acoustic foam on the walls and a high-density foam pad underneath a marine-carpeted floor. All of this guarantees superior sound control and insulation.
While you're hunting, three gear consoles and shelves with gun holders help organize your gear. There's a green LED light under the front when you need to find something quickly. High-quality automotive window gaskets and door molding help keep your scent in, the blind dry and the pests out, and a fiberglass bottom prevents rotting and varmint damage.
MSRP: Varies | redneckblinds.com
9. Banks Outdoors Stump Big Country
Can you have a small house for a hunting blind? It would seem that way with the new Banks Stump Big Country, a well-crafted blind with numerous features to enhance any hunting situation.
The Big Country has a diameter of 7.5 feet and an 80-inch inside height, which is more than enough room to move around freely with gear and multiple hunters. Two or three hunters, or a pair with a camera setup, can be comfortable in the blind and have enough space to get situated for a shot. The walk-through door is a big plus, too, when you're trying to get in with backpacks and other gear. In total, the Big Country has more than 30 square feet of space.
A 360-degree view allows for excellent visibility in all directions, thanks to the eight swinging windows and the round design of the blind. The latter also makes it perfect for bowhunters to stand, move and shoot. The windows open silently, seal tightly and keep scent contained.
The Big Country, like other Banks Outdoors blinds, is crafted from the finest materials and made for years of use. It has a durable, UV-stabilized polyethylene construction and paintable, bark-like texture that is weather resistant and will not rot. You can put the blind up as is, or paint it to blend into a specific background. It has a rigid, heavy-duty steel plate base for easy, secure mounting, and includes a floor mat, gun shelf and venting kit.
MSRP: Varies | banksoutdoors.com
10. Primal Outdoors Hang-Out Ladder Stand
The Hang-Out is a deluxe wrap-around two-person ladder stand designed with the ultimate in safety and comfort in mind. The stand features the Primal Grip Jaw System for maximum tree grip during installation and the Back Bone Stabilizer Truss System for enhanced ladder strength and stability, both combining to make this ladder stand rock solid and safe in all conditions. The stand's large, 56×31-inch foot platform provides plenty of room for two hunters, and the individual flip-up seats will keep them comfortable during all-day sits. Other features include a gear tray, padded arm rests and adjustable shooting rails, and a 20-inch wide ladder.
PRIMALOUTDOORS.COM
11. Primos Double Bull SurroundView Double Wide
Space is great in a ground blind, but hunters also want the ability to see anything that is coming from any direction. Those crunchy footsteps could be a whitetail or a squirrel. Either way, you have to get ready and find out what's happening. With the Double Bull SurroundView Double Wide blind from Primos, knowing what's happening won't be a problem.
The Double Bull SurroundView Double Wide combines two of the best features to hit the ground blind market. First is a 300-degree viewing capability that utilizes SurroundView material with the Double Wide door, which allows for quiet, easy entry and exit. The SurroundView material gives you optimal vision so you can be prepared to shoot, or merely enjoy watching whatever wildlife is passing by.
Read More : 16 Options for Your Hard-Earned Venison
The blind comes with a built-in sun visor for early morning and late evening hunts. The 180-degree full front window has silent slide window closures. The hub-to-hub width is a generous 70 inches, while the 70-inch height allows you to stand and move around.
MSRP: $499 | primos.com
12. Trophyline Onyx Platform
From the ancient Greek word meaning "claw," the new Onyx is a perfect fusion of Trophyline's popular EDP and Mission platform sizes with the efficient angles of the Wingman. The result is the ideal size and outstanding functionality for a platform, providing saddle bowhunters with the answer to all their needs. The perimeter of the Onyx is angled, with nonslip ridges for maximum contact and foot placement when leaning, rolling to stand or turning to shoot from your weak side. The Onyx is also built with the new Claw Design, a single cast post, standoff and stomp pad all integrated together. Overall dimensions for the platform are 14.9×13 inches, and its light weight of just 4.5 pounds makes it easy to hunt deep-woods bucks. Finally, Trophyline's unique Platform Leveling System ensures quick and successful setup.
MSRP: $229.99 | trophyline.com
13. GlenDel Elk
Shooting arrows at targets helps in many ways, and hunters appreciate the realism of a good life-size target. Elk (and moose) hunters have been somewhat limited in that regard due to the massive size of the creatures. But GlenDel's new half-scale elk target can offer a better dose of reality.
Utilizing GlenDel's PolyFusion 4-sided core technology, the new half-scale elk target is anatomically accurate and mimics the silhouette of one of North America's largest big-game animals. It just does that without the full size or expense of the life-size version. Sporting a large removable six-point rack, the body size simulates a bull weighing approximately 300 pounds and standing 38 inches at the shoulder.
The target is constructed of ultra-durable self-healing polyfoam and incorporates GlenDel's exclusive 12"x12"x12" 4-sided core system. The half-scale elk combines easy arrow removal with exceptional target life in a manageable package. Purpose-built to enhance any backyard range, the PolyFusion system for the core and vitals fuses open layers of foam to the target's inner wall to increase durability and expand lifespan. With up to five times the shooting surface, three different vital views give bowhunters lifelike aiming solutions at various shot angles, while also adding target durability.
Enhancing the realism, a lifelike paint combination emulates the sand and brown hues found in the wild of this western-inspired 3D target, while the detailed vital section depicts the location of the heart, lungs and liver at simulated angles. The ultra-durable 4-sided core is easily updated with replaceable vitals, available separately.
feradyne.com
14. Delta McKenzie T-Rex
Archery practice doesn't have to be boring. Shooting from different angles, adding a few fun shots or competing with friends is a great way to keep things lively. Shooting a T-Rex could spice things up, too.
Delta McKenzie's new targets include the fun T-Rex dinosaur with multiple scoring areas. Both are cast with the usual high-quality, durable target foam found in other Delta McKenzie targets. The two targets feature detailed, hand-painted finishes. Who hasn't seen an illustration of a roaring T-Rex and wondered about drawing on one?
The T-Rex is rated for field points and broadheads. Scoring rings on the T-Rex are molded to the ribs and belly. Whether you're on the ground or elevated, you'll be guaranteed different shot angles to help improve your skills. The scoring zones also can be used for competition and left as they are or outlined for higher visibility.
T-Rex is sized 47 inches wide by 79 inches tall. The head and legs can be removed for easy transport and storage. Its realistic scale pattern also allows you to paint individual scales for dot shoots or backyard fun.
MSRP: $299 | dmtargets.com
Check out more new gear for 2023:
Top 9 Bow Sights, Releases and Rests for 2023
Top 15 Broadheads for 2023
Top 9 Hunting Arrows for 2023
Top 10 Hunting Bows for 2023
Source: https://raysthesteaks.com
Category: Hunting